Saudi Oil Strategy Seen Working by Naimi as OPEC Set to Meet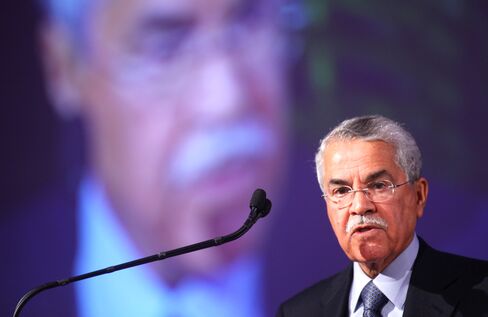 Saudi Arabia, which led OPEC to refrain from cutting oil output at a November meeting, said its market strategy is working days before the group decides policy once again.
Saudi Oil Minister Ali al-Naimi said he didn't know whether the Organization of Petroleum Exporting Countries would agree to keep its production target steady at a June 5 meeting. While there's a surplus in the global oil market, things are moving "in the right direction," he said Monday upon arriving in Vienna for the gathering.
Saudi Arabia shaped OPEC's strategy last year to defend market share amid a global glut and a collapse in benchmark crude, arguing that cutting output to boost prices wouldn't address the threat from a U.S. shale boom. The group will probably maintain its collective quota at 30 million barrels a day, according to a Bloomberg survey. That's after oil rebounded about 40 percent from a six-year low in January.
"The answer is yes," al-Naimi said Monday, after being asked whether the Saudi strategy was working. "Demand is picking up, supply is slowing."
Naimi's remarks show Saudi Arabia is determined to stick to its aim of driving out higher-cost producers to maintain and grow its market share, according to Gareth Lewis-Davies, an energy strategist at BNP Paribas.
"He said that Saudi strategy is working, which suggests that they therefore would like to continue with that policy," said Lewis-Davies by phone Tuesday. "They're playing a longer game that requires prices to remain at or around current levels for longer."
Oil Slump
Brent futures, the benchmark for more than half the world's crude, were 0.9 percent higher at $65.45 a barrel on the London-based ICE Futures Europe exchange at 10:28 a.m. local time. West Texas Intermediate, the U.S. marker, was at $60.82 in New York, a gain of 62 cents.
Both contracts collapsed almost 50 percent in 2014 as surging shale production boosted U.S. output to the highest level in more than three decades and reduced its need for overseas oil, contributing to a global supply glut.
The slump prompted U.S. companies to reduce the number of active rigs drilling for oil by almost 60 percent since early December. It's also roiled markets in producer nations from Nigeria to Venezuela, whose economies are dependent on revenue from crude sales.
Naimi on Monday declined to answer a question on his preferred price range for oil.
Market Share
OPEC's share of the global oil market is starting to grow, Barclays Plc said in a research note Tuesday. The group's share averaged 33 percent in April, an increase of 1 percentage point from last year, while still down from 35 percent in the middle of 2012, the bank said.
Saudi Arabia expanded its share of China's oil market in April, outpacing rival producers amid record demand from the world's biggest energy consumer.
China's April imports from the Middle East producer jumped 37 percent from a year earlier to the highest level since July 2013, customs data showed last month. The world's biggest crude exporter was the Asian nation's main supplier, accounting for 17.4 percent of its overseas purchases, up from 15.1 percent in March. The next three largest sellers -- Russia, Iran and Angola -- lost market share.
Global oil consumption will rise by 1.1 million barrels a day this year to average 93.6 million a day, the Paris-based International Energy Agency said in a report last month. World demand rose 700,000 barrels a day in 2014, according to the IEA.
Before it's here, it's on the Bloomberg Terminal.
LEARN MORE