Karl Wlaschek, World's Third-Oldest Billionaire, Dies at 97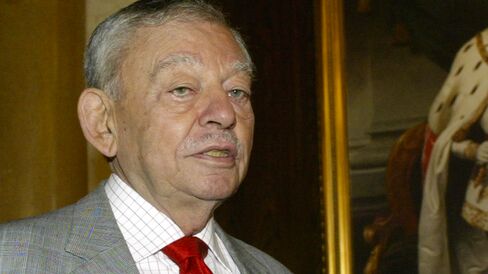 Karl Wlaschek, a former barroom pianist whose ventures in discount retailing and real estate, combined with longevity, made him the world's third-oldest billionaire and one of the richest Austrians, has died. He was 97.
He died unexpectedly on May 31, according to a statement from the Karl Wlaschek Foundation. His death occurred in Graz, Austria, the Austrian Press Agency said.
Among the world's billionaires, Wlaschek was junior only to former banker David Rockefeller, 99, and investor Kirk Kerkorian, who turns 98 on June 6, both of the U.S. He had a net worth of $3.7 billion, according to the Bloomberg Billionaires Index.
"Work and luck" were the keys to his success, Wlaschek said, according to a 2005 biography by Adolf Haslinger. "I've worked my entire life but I've also had lots of luck."
Following service in the German army during World War II, Wlaschek returned home to Austria and earned a living as a musician under the stage name "Charly Walker."
He ventured into retail in 1953 by opening Vienna's first self-service drug store. By the end of the decade, he had built a chain of 45 discount grocery stores known as Billa supermarkets. Wlaschek is credited with changing Austrians' shopping habits by offering lower-priced goods to consumers. Billa, or Billiger Laden, means "cheap shop" in English.
Property Investments
In 1996, Wlaschek sold the supermarkets to Germany's Rewe Group for about $1 billion. At the time of the sale, the business included more than 1,300 Billa stores and about 18,000 employees.
Wlaschek invested much of the proceeds into property, including the building housing Vienna's stock exchange and eight palaces in the capital city. In 2000, he bought Austria's biggest real estate company when he took over Bank Austria's property portfolio. Real estate prices almost doubled in the decade or so after the purchase, according to the Austrian Real Estate Federation.
Wlaschek's son, Karl Philipp, managed his father's property investments starting in 2004. The holdings, with a book value of almost 2 billion euros ($2.18 billion), earned the family 131 million euros in rent in 2011, according to Der Standard.
That same year, Karl Wlaschek bought the Schlosshotel Velden, a five-star property in Austria's southern Carinthian province where he had performed after the war. At a gala reception celebrating the purchase, he sat down at a piano and played "I'm in the Mood for Love."
Fifth Marriage
In April 2012, as a 94-year-old widower, Wlaschek made headlines in his personal life when he married for a fifth time, to then 63-year-old Ricki Schenk.
Wlaschek was born in Vienna on Aug. 4, 1917. His father, Rudolf, was a plumber and his mother, Aloisia, was a housewife, according to his biography.
He graduated from high school and studied chemistry at Vienna's Technical University until 1938, when his studies were interrupted first by the Anschluss, Nazi Germany's annexation of Austria, and then by World War II.
Wlaschek was drafted into the German army and assigned to units that fought in Poland, France and the Soviet Union. He survived the war by using his skills as a musician and joker to win assignments off the front lines, according to his biography.
His two children, Marie-Luise Bittner and Karl Philipp Wlaschek, were from previous marriages.
Before it's here, it's on the Bloomberg Terminal.
LEARN MORE