Hanergy Bids Show Record Discount in U.S. After Hong Kong Halt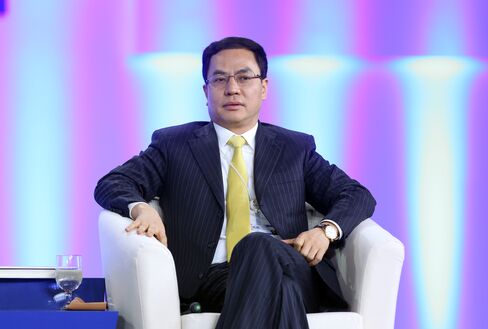 Hanergy Thin Film Power Group Ltd., the Chinese solar maker under probe by Hong Kong regulators, fell to a record discount in bidding on U.S. over-the-counter markets, a sign the company's halted Hong Kong shares are poised to drop.
The U.S.-traded securities sank 38 percent last week to 28 cents on Friday, equivalent to about HK$2.17, according to bids and offers tracked by Bloomberg. As the attached chart shows, that's 45 percent less than the last trade in Hong Kong at HK$3.91. The gap widened to a record 50 percent on Thursday.
Hanergy's Hong Kong shares tumbled 47 percent on May 20 before trading was suspended, erasing about $19 billion of market value and ending a more than six-fold surge over the previous 12 months. The rout has increased scrutiny of the company controlled by Chairman Li Hejun amid questions over its production levels, borrowings and technology.
"It shows that some investors might be so worried they want to get rid of the stock," Castor Pang, an analyst at Core-Pacific Yamaichi in Hong Kong. "As the securities regulators have stepped in, it's likely the suspension will drag on" in Hong Kong, he said.
Bids and offers on Hanergy shares in the OTC market may serve as a reference point for Hong Kong investors once the local shares resume trading, said Sam Chi Yung, a strategist at Delta Asia Securities Ltd. in Hong Kong. Two calls to the mobile phone of T.L. Chow, Hanergy's external spokesman, weren't answered.
The lower bids for U.S. shares "send a negative signal to investors as no one is trying to buy," Sam said. "There's big uncertainty about the company and investors want to avoid further risk."
Before it's here, it's on the Bloomberg Terminal.
LEARN MORE