Don't Let the European Stock Rally Fool You
Anyone looking at the direction of Europe's benchmark stock averages last month could get the impression investors are untroubled by the situation in Greece.
Looking a little deeper suggests otherwise.
Equity swings in the Stoxx Europe 600 Index were the biggest since January in May, according to data compiled by Bloomberg. That's even as the gauge rose for a fourth time in five months and Greek shares stand among the quarter's best performing in western Europe.
Investors are showing increased nervousness after the biggest stock rally since 1998 as Greece approaches a debt-payment deadline. Traders have increased hedging to shield themselves from any market fallout should the nation end up leaving the euro if deal talks fail.
"Whilst the balance of probability suggests that some sort of solution will be reached -- which is why markets aren't really selling off -- the cost of being wrong here is potentially quite high," said Daniel Murray, head of research at EFG Asset Management in London. "That's why there's this underlying tone of nervousness."
Hooked on conflicting news from Greece and its creditors, the Stoxx 600 gained or dropped 0.8 percent on average each day in May. That's the most since January, when anti-austerity party Syriza won the general elections. In the latest example, the index spiked up as much as 0.6 percent on Monday after a European Union official said at 12:32 p.m. London time that a financing deal is possible by June 5.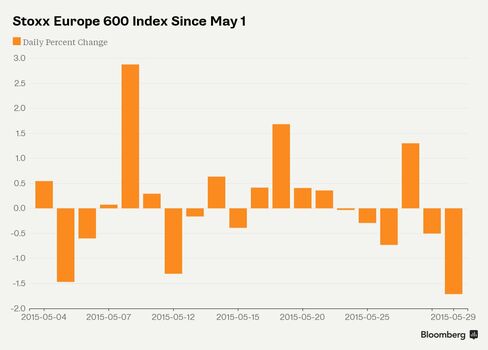 The Stoxx 600 fell 1 percent on Tuesday.
Fifth Month
Debt negotiations are entering a fifth month, and an accord is needed to release additional aid necessary for Greece to make four debt payments to the International Monetary Fund this month, starting on Friday. Its bailout package from the euro area also expires at the end of June.
With the region's shares heading for their wildest year since 2011, investors have increased protection. They sent the cost of Euro Stoxx 50 Index options to a record versus those on the Standard & Poor's 500 Index last month. All eight most-owned contracts on the European gauge were bearish.
Aimed Capital GmbH's Daniel Weston remains bullish on European equities. He added money to stocks and reduced bond holdings on optimism over the region's economic recovery and as inflation starts to pick up.
Best Alternative
"I don't think the Greeks will get their own way, nor will they leave the euro," said Weston, chief investment officer of Aimed Capital in Munich. "The distaste for bonds in an environment of rising CPI expectations for Europe will mean stocks remain the best alternative."
To Old Mutual Global Investors U.K.'s Kevin Lilley, stock volatility will persist. Economic data have started to disappoint, and speculation is growing over the timing of the Federal Reserve's first interest-rate increase since 2006. After the European Central Bank's bond-buying program spurred a rally of as much as 21 percent in the Stoxx 600 this year, the index has failed to surpass its all-time high. It has alternated between weekly gains and losses since mid-April.
"We had had a long period of positive economic surprises in Europe to mid-April and rapidly rising markets," said Lilley, the head of European equities at Old Mutual Global Investors U.K. in London. "Unless we get more positive earnings revisions and results over the second-quarter reporting season, I would expect there to be choppy markets over the summer months."
Before it's here, it's on the Bloomberg Terminal.
LEARN MORE