One gets a strange sense of deja vu looking at Argentina accumulate debt even faster than in 2001, the year of its infamous default.
The government announced last week that the primary deficit, which excludes debt payments, jumped to 17.4 billion pesos ($1.93 billion) in March, compared with a 3.6 billion peso surplus just one year earlier. The last time Argentina posted a shortfall for March was in 2002, three months after reneging on a record $95 billion of debt.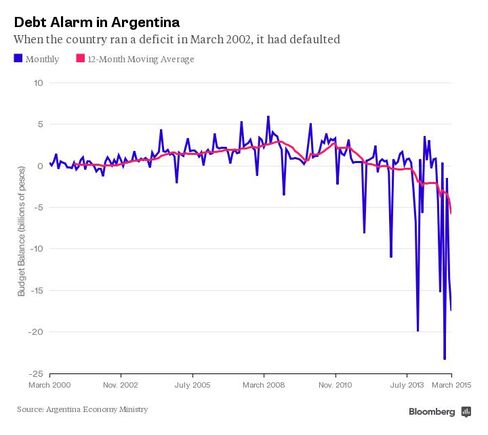 Instead of reining it in, President Cristina Fernandez de Kirchner is splurging during a protracted recession in an election year. After serving two terms, the constitution however doesn't allow her to run a third consecutive time.
Few people disagree that she leaves Argentina in better shape than when deceased husband Nestor inherited a shattered economy in the wake of the largest default in financial history. Argentina's debt today is about 27 percent of gross domestic product — a third of Britain's level — according to Miguel Bein, chief economic adviser to Daniel Scioli, the governor of Buenos Aires province and a leading presidential candidate from Fernandez's alliance.
The problem is that fiscal spending is climbing just as a decade-long commodity boom is ending. That strips the government of revenue from agricultural exports that had fed a surplus through 2011. At the same time, the government's ability to sell debt in capital markets is impaired by a 10-year-long legal battle with investors who refused to accept the terms of bond restructuring.
"It's unsustainable for revenue to be growing at 20 percentage points slower than spending," said Belen Olaiz, an economist at Abeceb.com, an economic research firm in Buenos Aires. "It's a gap that you're going to have to close at some stage."

That task awaits the next dweller of the Casa Rosada, the Pink House that for 12 years has had a Kirchner in residence.
Before it's here, it's on the Bloomberg Terminal.
LEARN MORE