London Parent's Chop Evaded by Jakarta CEO in Tale of Two Cities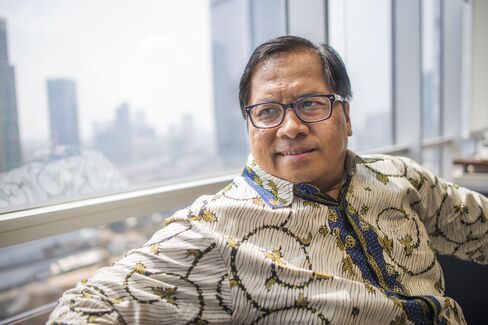 Amir Sambodo says he's in charge of PT Berau Coal Energy. London-listed parent Asia Resource Minerals Plc says he isn't. Lawyers have been brought in, accusations are flying and a bond payment deadline is looming.
At the heart of the dispute is a 118,400 hectare mining concession in Kalimantan, the Indonesian part of the island of Borneo. The coal-rich area almost half the size of the state of Rhode Island is a prized asset. ARMS shareholder and U.K. banking scion Nathaniel Rothschild wants to keep it, Indonesian interests want it in local hands.
The fight is taking place in two cities. In London, two recapitalization proposals are in front of ARMS -- one from Rothschild and one from Indonesian billionaire Eka Tjipta Widjaja. Both would inject funds into Berau to help pay debts and ride out a coal price slump. Half a world away, at Berau's Jakarta headquarters, Sambodo says he still leads the company while ARMS says it should be Iskak Wahyudi, an Indonesian its shareholders voted for at an April 30 meeting.
"No doubt in Indonesian law, I'm the president director," Sambodo, dressed in a pink batik shirt and Ray Ban spectacles, said in a two-hour interview at Berau's 17th floor office, during which he signed some mine production reports brought in by a secretary. "I'm not stressed."
The tangle at Berau encapsulates the challenges for Indonesian President Joko Widodo. He needs to persuade global investors that red tape and cronyism are in Indonesia's past as he accelerates spending on roads, ports and power plants. Yet nationalist political opponents, including mining tycoons, are ready to pounce on signs of weakness over control of a vital resource as Indonesia targets 7 percent growth.
Shifting Control
There are "grave questions about the certainty of the law" in Indonesia and cases where foreign partners have "lost big" suggest the need for extensive due diligence, said Keith Loveard, head of risk analysis at Jakarta-based Concord Consulting, without commenting directly on Berau. "It pays to make quite sure who you are dealing with before you jump."
ARMS took on its current name in 2013 after the break up of a 2010 venture called Bumi Plc between Indonesia's Bakrie family and investors including Rothschild. Control of ARMS remained in the hands of an Indonesian, Samin Tan, until a missed loan payment surrendered some rights to his bankers. Sambodo, special adviser to the Coordinating Minister for Economic Affairs from 2009 to 2014, was promoted after the split from the Bakries.
"Who am I? I'm just the CEO," he says.
ARMS has started legal proceedings in London against Sambodo, alleging he's been improperly holding on as a director of Berau and meddling in company affairs. It requested a share suspension in London as it seeks to restore "systems, procedures and controls over Berau."
Forced to Resign
ARMS "continues to take all reasonable steps to resolve the situation at Berau," ARMS Chief Executive Hamish Tyrwhitt said in a May 26 e-mailed statement.
Sambodo, 55, said he was forced to resign in March from both ARMS and Berau without reason or proper compensation. He says that while he was replaced at ARMS by Tyrwhitt, any resignation in Indonesia depends on a shareholder meeting. He says the April 30 vote in Jakarta wasn't valid because the two foreigners acting as Berau directors to set up the meeting didn't have Indonesian work permits for the company. Sambodo said he has filed his case in a Jakarta court.
The two foreigners, Keith Downham and Paul Fenby, were appointed Berau directors in December. It was known by Sambodo that they had valid permits at that time, said ARMS CEO Tyrwhitt. Since it was Sambodo's own human resources department responsible for processing the permits it is "not credible for Amir to now say that the permits were not valid," he said. The government is investigating the visa issue, said Yan Wely Wiguna, a law ministry spokesman.
'Just the CEO'
"The fact remains that Amir resigned from all group companies in March, and the fact also remains that ARMS as 84.7 percent shareholder wishes to appoint a new president director in its subsidiary," Tyrwhitt said, adding that the April 30 meeting was held in good order.
Sambodo, who's in a wheelchair after breaking his foot falling down some stairs, says he's not being paid by ARMS and is working only because he has a fiduciary duty to keep the company running. He withdrew his resignation on April 30 because others were "acting to break the company and break the law."
Wahyudi, the ARMS-elected president director, hasn't turned up to the office, Sambodo said. Wahyudi didn't respond to three phone calls seeking comment.
Security Guards
If Sambodo is signing documents after the April 30 meeting he's breaking the rules, Mangantar Marpaung, who ARMS elected as Berau's chairman, said in a May 25 interview. He said when he visited Berau's offices in early May he was told not to come again and saw 12 security guards. Bloomberg's reporters were checked in by only two security guards on May 25.
The Financial Services Authority, known as the OJK, will take action regarding the April 30 meeting according to regulations, Nurhaida, head of capital markets supervision, said in a May 25 interview. "OJK's position isn't to say who's right and who's not right," said Nurhaida, who like many Indonesians uses only one name.
Any change in a mining company's leadership needs approval from the resources ministry and Sambodo is still registered as Berau's head, said Gultom Guska, head of its coal production supervisory unit.
Indonesia's bureaucracy contributed to the country ranking 114th of 189 in the World Bank's 2015 ease of doing business survey, lower than Zambia or Nepal. The Southeast Asian nation ranked 172nd for enforcing contracts.
Contractor Payments
Payments to contractors and bondholders could be affected if the situation isn't clarified by June 30, said Sambodo, because anything over $1 million needs to be approved by London. That limit was put in place after the parent identified $173 million of expenses with no clear business purpose, said Xavier Jean, an analyst in Singapore at Standard & Poor's.
"Amir Sambodo is deliberating seeking to undermine the financial controls of the group, which could in turn lead to attempts by contractors to recover their costs via legal means, thus further jeopardizing the running of the Berau operations," said Sean Wade, a spokesman for ARMS in London.
That allegation is false and Berau is following all procedures, Sambodo said. He said the main problem is a lack of understanding in London about how Indonesia works.
"The board doesn't have knowledge of Indonesian law," he said. "If shareholders want to replace us, that's their right, done right."
Shareholders have to approve one of the recapitalization plans before a $450 million bond repayment deadline on July 8. The 12.5 percent notes are trading at 59 cents on the dollar.
"Given the debt problems at Berau it appears they are all fighting about a bone with no meat left on it," said Concord Consulting's Loveard.
Before it's here, it's on the Bloomberg Terminal.
LEARN MORE