Illinois Cuts Chicago a Pension Break as Its Own Finances Spiral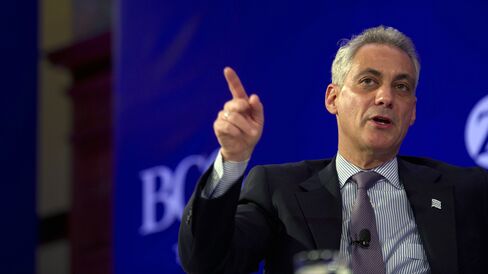 Chicago won some relief from its pension burden as Illinois's legislature cut required payments into police and fire retirement systems. Yet lawmakers failed to agree on a budget, deepening a crisis that threatens the state and city alike.
The Senate voted 38 to 20 Sunday for a bill that would reduce Chicago's payments over the next five years in a move meant to relieve immediate pressure, though it doesn't address the city's risk of insolvency from $20 billion in unfunded liabilities.
Meanwhile, budget talks between the Democratic-controlled legislature and Republican Governor Bruce Rauner broke down hours before the session's scheduled end, meaning any compromise to close a $6.2 billion deficit for the year starting July 1 now will require a three-fifths vote rather than a simple majority.
"We find ourselves trying to work with a governor who continues to run campaigns rather than run the state," Senate President John Cullerton said in a statement. "He dictates demands and threatens those who defy him."
Rauner, a former private-equity executive, has criticized Democrats' insistence on tax increases to deal with the deficit. He said he won't back them unless Democrats approve spending cuts and ease business regulations.
Rauner called the session "stunningly disappointing."
"We've been driven into the ditch," he said.
The governor said the middle class was pitted against the "political class" of Democrats Cullerton and House Speaker Michael Madigan.
"This is not about Democrats versus Republicans," Rauner said. "This is about good government taking on bad government."
The administration is making contingency plans, Rauner said, declining to go into detail. Catherine Kelly, a spokeswoman, had no comment on whether he would sign the Chicago pension measure.
Responsible Restructuring
Cullerton, moments before the Senate voted, called the bill prudent.
"It's not kicking the can down the road," he said. "It's restructuring the obligation to get these things funded, and it's doing it in a way that's responsible."
Mayor Rahm Emanuel had sought the payment reduction, which cuts to $330 million a scheduled additional contribution of $550 million to the police and fire funds due next year.
"This weekend's passage is a critical first step," Emanuel said in an e-mailed statement Sunday. But Senator Matt Murphy, a Republican from suburban Palatine, said the measure meant the city could avoid facing its crisis.
"This is nothing more than a pension holiday," he said before the vote. "They need to start taking it seriously in Chicago. Otherwise, they're going to be in a situation where bankruptcy does become real for these funds and maybe beyond."
Credit Standing
Pension liabilities have contributed to dramatic reductions in Chicago's credit standing, and Moody's Investors Service warned May 1 that delaying the day of reckoning was unwise.
"Any reduction in city contributions would have a deleterious effect on the plans' already precarious condition," Moody's said in the report. "As the plans approach insolvency, risks to the city's solvency will grow."
Moody's lowered Chicago's credit rating to junk on May 12 after the state Supreme Court rejected Illinois's 2013 pension overhaul, limiting options for altering the city's system. The company has a negative outlook on Chicago, signaling its grade could fall further.
Among the nation's biggest cities, only Chicago shares junk status with Detroit, which emerged from bankruptcy in December.
Rescue Unlikely
Illinois isn't likely to come to Chicago's rescue, because it has $111 billion in pension obligations of its own and has the lowest credit rating among states. Rauner told members of the Chicago City Council recently that there would be no bailout.
The state has been sliding deeper into trouble for years. It's graded A3 by Moody's Investors Service and an equivalent A-by S&P. While both give it a negative outlook, S&P put Illinois on review for a rating cut after the court overturned its pension overhaul.
Before it's here, it's on the Bloomberg Terminal.
LEARN MORE