Beau Biden, VP's Eldest Son, Succumbs to Brain Cancer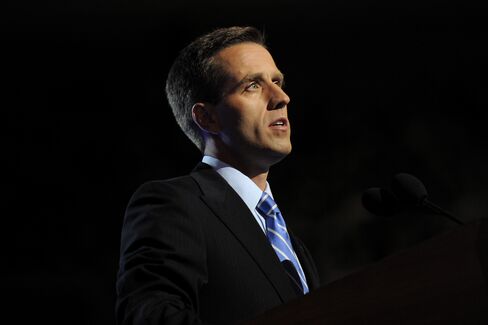 Beau Biden, the son of Vice President Joseph Biden whose election as Delaware attorney general at age 37 made him an ascending star in the Democratic Party, has died of brain cancer. He was 46.
Biden died Saturday night after being admitted earlier this month to Walter Reed National Military Medical Center in Bethesda, Maryland, for a recurrence of brain cancer.
His health had been in question since August 2013, when he had a surgical procedure at University of Texas MD Anderson Cancer Center after being diagnosed that month. He was treated with chemotherapy and radiation and given a clean bill of health that November, according to the vice president's office. He'd also had a mild stroke in 2010.
The cancer came back this year and he "immediately sought aggressive treatment," the vice president's office said. His parents, wife and children were among the family members with him when he died.
"The entire Biden family is saddened beyond words," Joe Biden said Saturday in an e-mailed statement announcing his son's death. "We know that Beau's spirit will live on in all of us."
President Barack Obama remembered Beau Biden as a public servant and father. "Michelle and I are grieving tonight," Obama said in an e-mailed statement. "Beau Biden was a friend of ours." The Obamas visited the vice president's residence on the grounds of the U.S. Naval Observatory in Washington on Sunday afternoon.
Senate Cloakroom
One of Joe Biden's former Senate colleagues, Secretary of State John Kerry, said in an e-mailed statement that Beau Biden's loss was "crushing."
"I got to know him just listening to Joe talk in the Senate cloakroom about his boys," said Kerry. "Beau Biden was a son any father might hope to raise, and Joe Biden is the father any boy would want. It made their relationship special. Beau also was special."
Beau Biden most recently was of counsel at the law firm Grant & Eisenhofer where he worked in the securities litigation and whistle-blower practice groups.
The oldest of the vice president's four children, Biden played a significant supporting role in his father's campaign as Barack Obama's running mate in 2008.
Family Tragedy
Introducing his father at the Democratic nominating convention that August, Biden told the story of their shared family tragedy: the December 1972 automobile accident that killed his mother and 1-year-old sister and injured him and his brother, both toddlers at the time.
"As a single parent" after the death of his wife, Joseph Biden "decided to be there to put us to bed, to be there when we woke from a bad dream, to make us breakfast, so he'd travel to and from Washington, four hours a day," Biden recalled.
In October 2008, as the presidential campaign in which Joe Biden was Obama's running mate neared an end, Beau Biden was called to active duty in Iraq as a captain in the Delaware Army National Guard's Judge Advocate General's Corps. He spent a year with the 261st Theater Tactical Signal Brigade, flying to Washington to attend the presidential inauguration in January 2009. In 2011 he was promoted to the rank of major.
Car Crash
Joseph Robinette Biden III was born on Feb. 3, 1969, in Wilmington, Delaware. His father at that time was practicing law and taking his first steps in local politics. His mother, the former Neilia Hunter, had another son, Robert Hunter, known as Hunt, in 1970, and a daughter, Naomi, in 1971.
The 1972 automobile crash that killed Neilia and Naomi, and injured 3-year-old Beau and 2-year-old Robert, occurred six weeks after Joseph Biden, a Democrat, won election to the Senate. Their station wagon was struck by a tractor-trailer in Hockessin, Delaware.
The new senator began commuting daily between Wilmington and Washington, about 110 miles (177 kilometers), first by car, and then by Amtrak for the majority of his 36 years as senator. He credited sons Beau and Hunter for urging him to marry the woman, Jill Jacobs, who in 1977 became his second wife and mother of their daughter, Ashley.
Career Path
Beau Biden graduated in 1987 from Archmere Academy, a Roman Catholic preparatory high school in Claymont, Delaware. He received his undergraduate degree in 1991 from the University of Pennsylvania and his law degree in 1994 from Syracuse University College of Law.
After working as a clerk for U.S. District Judge Stephen J. McAuliffe in Concord, New Hampshire, Biden went to work at the U.S. Justice Department in the Office of Policy Development. He said he worked on issues related to the Brady Handgun Violence Prevention Act, the Violence Against Women Act and missing and exploited children.
From 1997 to 2002 he was a prosecutor in the U.S. Attorney's office in Philadelphia. He spent four months in Kosovo in 2001 as part of U.S. government delegation working to help establish a new criminal-justice system in the aftermath of the civil wars that split the former Yugoslavia.
He was an attorney in private practice when he ran for Delaware attorney general in 2006 and had said he would run in the Delaware governors race in 2016.
Electoral Victories
His father, in an interview with the C-Span public affairs television network, said that while he was "exceedingly proud" to see his son seek office, "I can now understand how my wife and my sister and my mother and my brothers, you know, how they live and die with campaigns relating to me. It's a lot easier to be the candidate than it is to be the person supporting the candidate."
Biden defeated Republican Ferris Wharton, 53 percent to 47 percent.
After considering a run for his father's former seat in the Senate, Biden announced in 2010 that he would instead seek a second term as attorney general. He won easily, with 79 percent of the vote.
Biden married the former Hallie Olivere in 2002. They had a daughter, Natalie, 10, and a son, Hunter, 9.
Before it's here, it's on the Bloomberg Terminal.
LEARN MORE