Merkel Offers Cameron Hope in EU Membership Renegotiation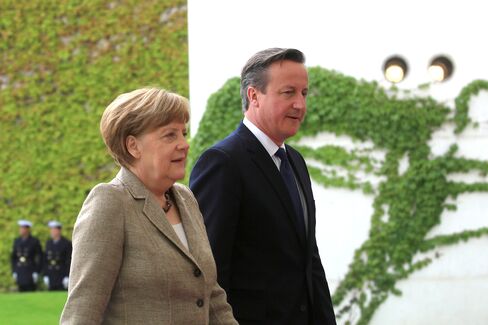 Angela Merkel offered to help David Cameron secure the changes he wants to Britain's relationship with the European Union, including the possibility of changing EU treaties if necessary.
"Where there's a will, there's a way," Merkel told reporters alongside Cameron in Berlin on Friday. "There is the clear hope on the part of Germany, which of course will be decided by the British people, that the U.K. remains a member of the EU."
The support from the most powerful person in Europe, offered over lunch in Berlin, came hours after Cameron received a frostier reception during a breakfast in Warsaw with Polish Prime Minister Ewa Kopacz. Afterward, Kopacz's office issued a statement saying she'd "strongly opposed" British proposals to cut welfare payments to immigrants. After Indians, Poles are the largest foreign-born group in the U.K.
Speaking after his meeting with Merkel, Cameron brushed off Poland's response. "We want to make sure that our welfare systems are not acting in an unfair or unnecessarily broad way," he said. "That's not about discrimination."
Berlin was the final stop in a four-city tour of the EU that also saw the British prime minister have lunch Thursday with the Netherlands' Mark Rutte and dinner with France's Francois Hollande.
Treaty Change
Merkel said that Germany shared some of Britain's concerns about migration and welfare. In her opening statement, she raised the possibility of changing EU treaties, something Cameron said is likely to be necessary.
"We're beginning now to talk about substance," Merkel said. "If one is convinced about the substance, you can't say a treaty change is a total impossibility."
Cameron and Merkel both said the EU had a history of accommodating the issues of particular member states.
"It needs to have the flexibility of a network, not the rigidity of a bloc," Cameron said. "It's a strength to be able to accommodate different nation states on different measures."
Before it's here, it's on the Bloomberg Terminal.
LEARN MORE