Credit Suisse Says Chinese Stocks are Overvalued by More Than 20 Percent
A market out of sync.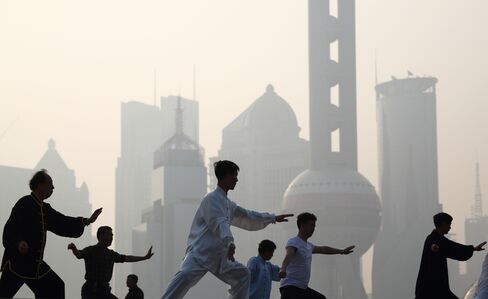 Despite pulling back ever so slightly over the past week, the Shanghai Composite Index is still up a staggering 126 percent over the past 12 months. Thus, it's no surprise that investors and traders are asking if the exchange is broadly overvalued.
In new research, Credit Suisse argues that it is -- and by a rather large amount. Here are analysts Alexander Redman and Arun Sai:
Has the market departed from fundamentals? We believe so. Our regression model suggests the market is 23% overbought and has 15% potential U.S. dollar downside to year-end 2015 based on Credit Suisse macro forecasts ... Moreover, equity market price momentum has decoupled away from earnings revisions which remain deeply embedded in negative territory.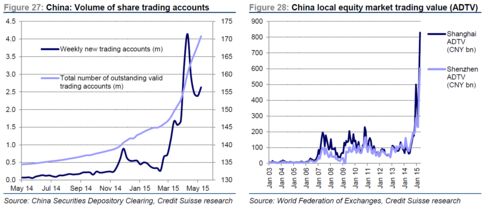 The team goes on to explain what they see as the key drivers behind the pronounced rally in Chinese stocks. For a start, there's the People's Bank of China and its massive stimulus measures and liquidity injections. China's retail investors have also been flocking to stocks thanks to unattractive bank deposit rates of less than 1 per cent and wealth management products that have been unexpectedly defaulting. A softer real estate market has also encouraged this shift into equities, Credit Suisse says. Meanwhile, there's been little discouragement from China's securities regulators outside of two relatively small interventions in January, where they imposed some restrictions on the margin borrowing that has helped fuel the move into stocks.
With all those dynamics in play, Chinese stocks have been boosted into the stratosphere and arguably beyond their fundamentals. The below Credit Suisse chart shows the relationship between China's nominal GDP and the Shanghai A-share index, or the Chinese company shares generally reserved for purchase by mainland citizens. As Credit Suisse notes, "more than any emerging market, Chinese equities tend to march to their own tune irrespective of underlying economic fundamentals." The amazing thing is that this divergence is hardly unusual. Over the past two decades the paths of China's nominal GDP growth and nominal performance of its equity market have pulled in different directions most of the time, according to Credit Suisse.
Though the most recent divergence -- with share price growth far outpacing GDP growth from around late 2014 -- is still rather remarkable.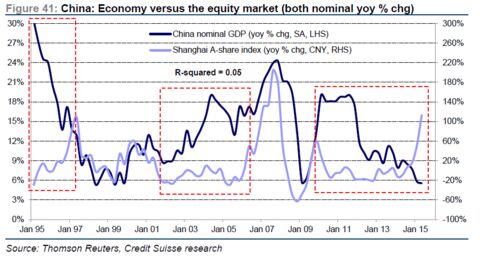 Before it's here, it's on the Bloomberg Terminal.
LEARN MORE