Visa to Reassess Sponsorship If FIFA Doesn't Reform Quickly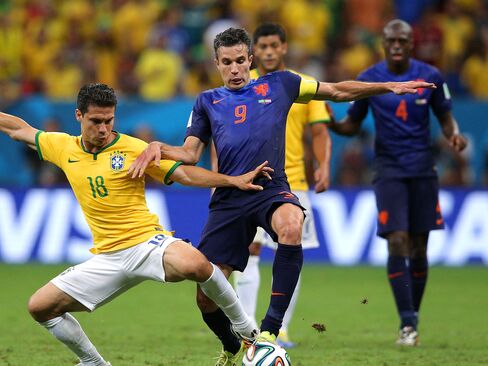 Visa Inc. said it will reassess its sponsorship of FIFA if the World Cup's governing body fails to reform in the face of international bribery investigations.
"Our disappointment and concern with FIFA in light of today's developments is profound," Visa said in a statement late Wednesday after FIFA officials were indicted earlier in the day. "We expect FIFA to take swift and immediate steps to address these issues within its organization. This starts with rebuilding a culture with strong ethical practices in order to restore the reputation of the games for fans everywhere."
Visa joins a growing list of companies pressuring FIFA after authorities outlined years of alleged corruption at the organization. According to the U.S. Justice Department, FIFA officials received bribes and kickbacks that were meant to influence the awarding of media and marketing rights, along with the choice of the host country for the 2010 World Cup.
Visa, the world's biggest bank-card network, last year extended its deal with FIFA to the 2018 World Cup in Russia and the 2022 event in Qatar. The firm was among five marketing partners for the 2018 tournament listed on Zurich-based FIFA's website. Wednesday's statement isn't the first time the Foster City, California-based lender has pressed FIFA to act quickly.
Visa issued a similarly worded statement in November, when it told FIFA to "act accordingly and take swift action" after criticism of bidding for the 2018 and 2022 tournaments. In May 2011, Visa asked FIFA to "take all necessary steps to resolve the concerns that have been raised" amid a corruption scandal at FIFA.
Last week, Visa also told FIFA it has "grave concerns" about reports of abuses of migrant workers building stadiums for the Qatar event.
Before it's here, it's on the Bloomberg Terminal.
LEARN MORE