Sunac Abandons Purchase of Troubled Chinese Developer Kaisa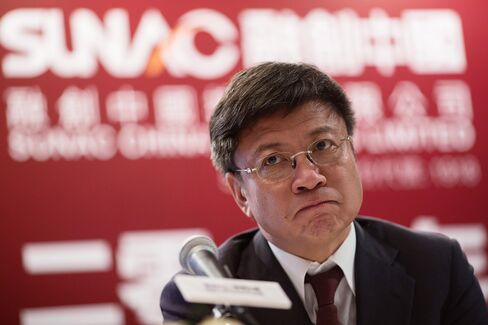 Sunac China Holdings Ltd. abandoned its proposed $1.2 billion acquisition of rival developer Kaisa Group Holdings Ltd. after Kaisa bondholders failed to agree on a debt-restructuring deal.
The purchase was dropped because prerequisites for the sale weren't met, the Tianjin-based Sunac said in a Hong Kong stock exchange filing. The conditions included a successful restructuring and refinancing of Kaisa's debt, and the resolution of business "irregularities," according to a Feb. 6 statement when the transaction was first announced.
Sunac Chairman Sun Hongbin is dropping a deal that would have given him a foothold in southern China after signs emerged that Kaisa's founder Kwok Ying Shing changed his mind about the sale. Kwok, who resigned in December amid a government probe, returned as chairman days after authorities lifted a four-month sales blockage that drained the company's cash flows. Kaisa became China's first homebuilder to default on U.S. currency debt in April.
"This is a negative headline for the Kaisa bonds given the significant uncertainty on the outlook of the company now Sunac has pulled out of the deal," said Guo Rui, a Hong Kong-based credit analyst at Mitsubishi UFJ Securities HK Ltd.
Kaisa's 2018 notes tumbled 3.372 cents to 59.453 cents on the dollar as of 8:48 a.m, the lowest in three weeks, in Hong Kong.
Shares of Sunac jumped 3.9 percent to HK$10.14 as of 9:33 a.m. when they resumed trading in Hong Kong after a suspension.
Bond Restructuring
Kaisa, based in the southern Chinese city of Shenzhen, is seeking to restructure $10.5 billion of debt, including $2.5 billion of offshore bonds. Kwok told offshore bondholders he may offer them a better restructuring proposal than the one Sunac made, raising questions about his intention to sell the company, people with knowledge of the matter said early in May.
A better offer may help Kaisa strike a deal with creditors, a precondition Sunac wanted to complete an acquisition of the company initiated almost four months ago.
Tam Lai Ling, Kaisa's former vice chairman who resigned with Kwok last year, has returned to the company to help lead the restructuring of its debt, according to an e-mail from Kirkland & Ellis to bondholders obtained by Bloomberg.
The sellers Kaisa's stock, the founding Kwok family, will have to refund HK$1.1625 billion ($150 million) to Sunac by May 29 and another HK$1.1625 billion with interest would have to be refunded by Dec. 28, according to the Thursday filing.
"While a blow to its expansion plan, it should be credit positive for Sunac from the cash flow perspective," said Guo of Mitsubishi UFJ. "But there could be some lingering concerns on the full refund of its pre-payments."
Kaisa said March 31 its annual report is being delayed because auditors needed more time to verify its accounts, further hampering the talks.
— With assistance by Dingmin Zhang, and Lianting Tu
Before it's here, it's on the Bloomberg Terminal.
LEARN MORE