Soiled by Oil Scandal, Brazil's Model Is Primed for Makeover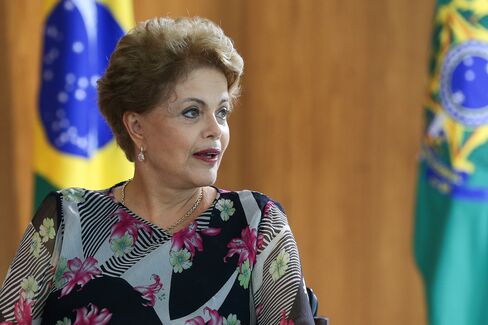 Oil was to be the elixir of Brazil's dreams to build a formidable economy, promote industrial development and fund a more generous welfare state even as it attracted billions in private global investment.
Instead, crisis and disappointment in the oil sector are beckoning Brazil's leadership to move -- if grudgingly -- toward more deregulated industries and to temper the government's hand in using state-run companies to forge broader economic policy.
Which helps explain why, as her second term takes shape, some of President Dilma Rousseff's ministers have jettisoned the statist language of her first four years in office and those of her popular predecessor, Luiz Inacio Lula da Silva. Instead, they are floating some liberal notions more in keeping with the pre-Lula years.
Talk of deregulation or breaking with party economic rhetoric -- the kind of pronouncements that used to get a minister a public dressing down from the president, as has happened with issues like taxes and the minimum wage -- now occur with impunity even as Rousseff herself sticks to the nationalistic script. "I wouldn't say the government is turning," said John Forman, a former Brazilian oil regulator who now advises energy companies. "I'd say the government is being forced to take a different position."
Forced, he said, by a confluence of circumstances beginning with the huge writedowns and losses hobbling state-run oil giant Petrobras, saddled with $125 billion in debt. With the government in no position to execute a bailout, the question now is how Brazil will finance the development of its vast offshore oil reserves, including the so-called pre-salt deposits in the Atlantic Ocean, about 150 miles east of Rio. These were discovered during the Lula era.
Ongoing Meltdown
The ongoing meltdown at Petroleo Brasileiro SA -- highlighted by a staggering $16 billion in writedowns in April related to corruption and mismanagement of refinery projects -- is just the tip of the iceberg. The government had also ordained Petrobras to provide fuel subsidies for the masses, a move designed to direct huge sums from its assumed pre-salt bonanza toward social policy it favored and as a hedge against inflation.
Model Broken
In September 2010, at the height of the pre-salt discovery frenzy, Petrobras raised $70 billion in cash and assets in the world's largest share sale, making it then the fourth most valuable company after Exxon Mobil Corp., Apple Inc. and PetroChina Co., according to data compiled by Bloomberg. Its market capitalization was about $220 billion and it planned to invest $224 billion over five years to double oil production to 5.38 million barrels a day and vault past Venezuela, Mexico and Canada in the Americas. Rousseff had just stepped down as chairman to make a run for the presidency.
Instead, more than half the new capital -- about $40 billion in all -- went right back out the door to keep gasoline cheap. The company lost another $10 billion to mismanagement on far-flung refinery projects, tied to the corruption scandal. Investors have been badly burned. Even after a 31 percent rally in the past three months, Petrobras's market value is still more than 50 percent below 2010 levels in local currency terms. And the predicted oil production surge hasn't happened. At 2.8 million barrels a day, output is only up 12 percent since then.
The corruption scandal broke in March of last year when police arrested a former Petrobras refining chief, accusing him in court documents of colluding with a well-known Brazilian money launderer to hide or distribute kickbacks as part of a plan to inflate construction contracts. The money, according to prosecutors, went to finance campaigns and bribe politicians through intermediaries to guarantee they would vote in line with the ruling party while enriching themselves.
Taboo Topics
A major victim here is the Brazil Model itself -- the shattering of the government's core insistence that it could run Petrobras as a grand experiment in government beneficence and not harm the company's obligations to shareholders.
These days, Brazilians are left to spout optimistic homilies about recovery. "The oil exists. We now need to find the best way to generate wealth," said Eduardo Eugenio Gouvea Vieira, head of the Rio Industry Federation.
Now, ideas that were scorned just a couple of years ago -- cutting back government regulation and opening not just Brazil's oil sector but also agriculture and other economic sectors to more outside investment -- are being openly extolled in high places.
"Topics that until recently were taboo in Brazil, like the role of Petrobras in power generation or the details of local-content rules, are now being discussed," said Damian Popolo, institutional affairs manager at Parnaiba Gas Natural, Brazil's biggest independent gas producer.
Buy-Brazil
Energy Minister Eduardo Braga is expected to deliver a proposal as soon as June to adjust an onerous Buy-Brazil policy that requires producers to procure most goods and services locally. He also supports allowing Petrobras to opt out of the obligation -- what used to be described as a right -- to assume at least 30 percent ownership of all pre-salt projects and operate them. The company lacks the money to cover its share of development.
In a recent interview in Houston, Braga also said that Petrobras, after years of taking on debt to sell fuel to consumers below international prices, will now have the freedom to set its own pricing policy.
Political Capital
"The president is now being forced to backtrack on the trail she herself helped blaze," said Sergio Fausto, director of the Fernando Henrique Cardoso Institute. "The big question is if the government has the conviction to burn part of its already small political capital to see these changes through."
The presidential office declined to comment. Petrobras didn't respond to requests for comment.
With Petrobras buried in debt, Brazil's best chance of accelerating oil development and boosting flagging revenues may be to rely increasingly on international companies. They are interested, but are being cautious until they know the details of potential regulatory changes, according to Joisa Campanher Dutra, FGV professor and researcher at the Center for Studies in Regulation and Infrastructure. Current Petrobras partners Royal Dutch Shell Plc and Total SA have both reiterated their commitment to Brazil and interest in new opportunities.
Brazil is "blessed with natural resources, but what generates wealth is economic activity and production," said Campanher Dutra. "What good is it to have reserves if you aren't able to use them?"
Back Tracking
Not that this will be an easy sell among the more left-leaning in Rousseff's own party for whom Petrobras has been both a source of pride and political succor. And $10 billion in Chinese credit announced in the past two months gives some financial breathing space under current rules. Rousseff herself said during a May 14 event that the local content requirement is "at the center of a policy to recover the investment capacity of the country."
The combination of declining oil prices and Brazil's "strange rules" are driving policy changes as a question of necessity, according to Arthur Byrnes, who oversees almost $1 billion as senior managing director at Deltec Asset Management.
"If they do the liberalization of not having Petrobras be the 30 percent owner of all the new stuff, it's a hugely positive turn for the country and to Petrobras," he said. "It remains to be seen but I think their hands are being forced."
Along with energy, deregulation of Brazil's agriculture, mining and aviation sectors are also being discussed.
"Reality demands it," said Wellington Moreira Franco, head of political foundation Ulysses Guimaraes and former aviation minister. "It's a question of arithmetic and numbers, not ideology. Ideology is great to define values for a civilized society, but when it comes to the day-to-day, it's terrible."
Before it's here, it's on the Bloomberg Terminal.
LEARN MORE