Not Buying a Home Could Cost You $65,000 a Year
Renters are missing out on savings in most metros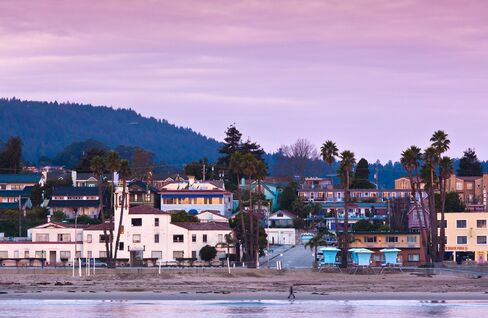 Not buying a home right now will cost you, because home prices and interest rates are going to rise. Many renters would like to own, but they can't afford down payments or don't qualify for mortgages. Those two conclusions, drawn from separate reports released this week, sum up the housing market dilemma for many young professionals: Buyers get more for their money than renters—but most renters can't afford to enter the homebuying market.
The chart below comes from data published today by realtor.com that estimates the financial benefits of buying a home based on projected increases in mortgage rates and home prices in local housing markets. Specifically, it shows the amount that buyers gain, over a 30-year period, over renters in the country's largest metropolitan areas.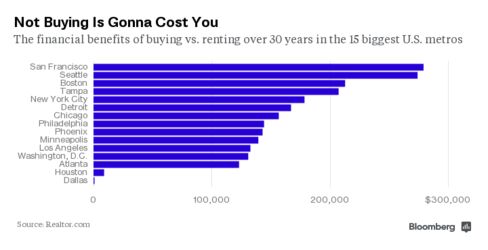 The penalties for waiting to buy tend to be greater in smaller metro areas, especially in California. For example, the estimated cost of waiting one year was $61,805 in San Jose and $65,780 in Santa Cruz. Over the course of 30 years, homeowners save more than $1 million in Santa Cruz, the largest amount of any U.S. city.
To compile those numbers, realtor.com compared median home prices and the cost of renting a three-bedroom home in 382 local markets, then factored in estimates for transaction costs, price appreciation, future mortgage rates, and interest earned on any money renters saved when it was cheaper to rent.
In other words, researchers went to a lot of trouble to quantify something that renters intuitively know: They would probably be better off if they could come up with the money to buy. Eighty-one percent of renters said they would prefer to own but can't afford it, according to a new report on Americans' economic well-being published by the Federal Reserve.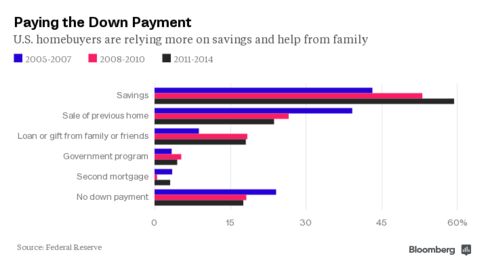 Not all markets favor buyers over renters. In Dallas, the benefit of buying was about $800 over 30 years, according to realtor.com's model, which expects price appreciation to regress to historical norms. In many popular markets, though, there are greater benefits to owning.
"It shouldn't be a surprise that the places where you can have the highest reward over time also have the highest prices," said Jonathan Smoke, chief economist for realtor.com. "It's not true that if you're a median-income household, that you can't find a home that's affordable, but in places like San Jose and Santa Cruz, less than 10 percent of inventory would be affordable."
Or as Logan Mohtashami, a senior loan officer at AMC Lending Group in Irvine, Calif., told Bloomberg Radio this week: "The rich have no problem buying homes."
Before it's here, it's on the Bloomberg Terminal.
LEARN MORE