India Billionaire Finds No Such Thing as a Free Lunch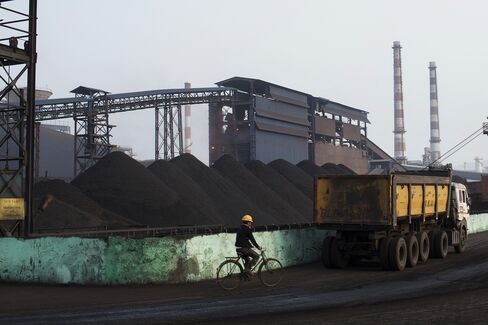 Billionaire Naveen Jindal ran what was once India's most valuable steelmaker worth almost $15 billion. That has now shrunk to less than $2 billion, a fall exacerbated by the nation reversing its policy on coal.
The rise of his company, Jindal Steel & Power Ltd., was built on coal blocks handed out by the government on condition companies invest in industrial projects and pay royalties. That ended last year when the courts canceled the permits.
Beside the loss of investors, he's fighting a court investigation into alleged irregularities in winning rights to a coal block in eastern India. It all got worse on May 27 when the company reported its first annual loss in at least a decade.
Jindal is one of several industrialists that constructed empires around a government policy starting in 1993 to give away rights to coal deposits. The idea was private businesses would do a better job developing the blocks. This in turn would boost supplies of coal needed to raise electricity generation. Jindal mined more coal than any other company that received the land.
"It was the right policy at that time, because none of these mines were viable," said Kameswara Rao, executive director for energy and utilities at PwC India. "As commodity prices rose, the policy should have been changed."
Supreme Court
India's Supreme Court did that in September, ruling the giveaways were arbitrary and illegal. The court said the blocks should be auctioned off in open bidding or other sales.
That left businesses running mines developed on the coal deposits without supply and facing the cost of replacing it. This was after years of combined investments of more than $45 billion in power plants, steel mills and aluminum smelters to run on the coal.
Jindal won rights to nine of the 218 parcels handed out, though it says its significant investments meant it wasn't the biggest beneficiary of the transfers. The court in September ordered all the companies that received the blocks to pay a levy of 295 rupees a ton for the coal they had extracted. Jindal got the biggest bill, contributing to last year's loss of 12.8 billion rupees ($201 million) that the company reported on May
27.
Auction Blocks
According to its results statement, Jindal has paid "under protest" a levy of 30.9 billion rupees for coal mined up to September 2014, of which it believes 13 billion rupees is recoverable. The filing also shows a "net book value of investment made in mining assets" of 6 billion rupees.
It's not that warnings weren't given that the coal trough wouldn't last.
India's government started looking at auctions of the coal blocks in 2004. It took six more years to get that enacted in parliament, then another four years till the Supreme Court ruling. Following the Sept. 24 decision, the company's shares have fallen 45 percent to 116.7 rupees as of the June 1 close in Mumbai, leaving it with a market value of $1.7 billion. At their peak in 2010, the shares fetched 743.45 rupees.
"If we had adopted the auction methodology, there would be no such mess that we see today," P.C. Parakh, India's top bureaucrat in the coal ministry in 2004-2005, said in an interview. "No one said no to auctions, but they kept dragging their feet."
Hard Lobbying
It isn't difficult to see why. Companies lobbied hard to get their hands on the blocks, which would later stoke allegations of influence peddling.
The Central Bureau of Investigation in a court filing in May alleged that Jindal promised the province's then Chief Minister Madhu Koda political support for his coalition government to remain in power. In return, Jindal got full control of the mine.
The court's next hearing will be on June 30. Jindal Steel said in a May 22 statement that the Amarkonda block in Jharkhand was allocated to it on merit and that it was confident of a positive outcome. It also said that it hadn't gained from the deposit because the region's Maoist insurgency had prevented its development.
Former Chief Minister Koda denies allegations of any wrong doing in the coal block allocation case, his lawyer Vijay Kumar Pandey said by phone.
Electricity Cash
Naveen Jindal and Chief Executive Officer Ravi Uppal were unavailable to comment ahead of their earnings announcement.
Beside coal, another windfall came in the sale of coal-generated electricity. Jindal sold the electricity from his plant in Chhattisgarh in the spot market at higher rates than those paid by state utilities, according to a presentation on the company's website.
Investing in power plants without securing a long-term buyer was a big gamble that paid off, Anil Razdan, India's secretary for power from 2007-2008, said in an interview.
"With these steps, his company did very well financially and rose in the eyes of investors," said Rakesh Arora, an analyst at Macquarie Capital Securities India in Mumbai.
India would later make it mandatory for electricity producers using Indian coal to sell at least 85 percent of their power at regulated rates.
Next Step
In line with the Supreme Court ruling, India auctioned off 29 coal blocks in March. Jindal won two, only for the government to hold back the permits, saying the bids were too low. Jindal has challenged that in court.
Auctions are just a first step, said Debasish Mishra, a senior director at Deloitte Touche Tohmatsu India Pvt. in Mumbai.
Private companies mining coal in India are only allowed so-called captive use of the fuel at their own plants. By law it can't be resold. State-run Coal India has the monopoly on coal sales.
"The next reform should be to do away with captive coal mining altogether and open up the sector to private mining companies," said Mishra. "That would allow us to open large projects and dig deeper for the resource."
(Corrects story first published May 28, adding market value in first paragraph, correcting the number of coal parcels in eighth, source of allegations in 14th, and adding why officials couldn't comment in 17th.)
Before it's here, it's on the Bloomberg Terminal.
LEARN MORE