If You Think Brazil's First Quarter Was Bad, Wait for the Second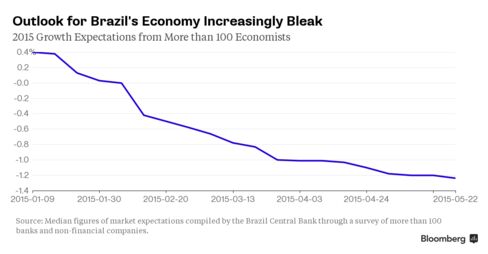 Brazil's economy probably shrank in the first three months of 2015, and the second quarter may be worse as the nation enters its first recession in six years.
Gross domestic product contracted 0.6 percent in the first quarter, according to the median estimate of 36 economists surveyed by Bloomberg. When surveyed last month, analysts forecast that would be the year's weakest quarter. Now they foresee the second quarter being even worse, according to a May 22-27 survey.
As steward of Brazil's economic policy, Finance Minister Joaquim Levy has cut spending while raising taxes and the prices of regulated items to avert a sovereign downgrade. At the same time, the central bank is boosting borrowing costs to slow inflation. This two-pronged tightening has already taken a toll on industry and investment, and the slump will spill over into consumption and services in the second quarter, according to Roberto Padovani, chief economist at Banco Votorantim.
"If you look at what's going on in terms of expectations, everybody, myself included, has revised down forecasts over the past month," Padovani said by phone from Sao Paulo. "We were expecting to have a mild and shorter contraction, and now it looks like we can have a deeper and longer contraction."
Consumption and services will suffer as the labor market continues to deteriorate, he said. Unemployment in April hit a nearly four-year high of 6.4 percent. The economy shed almost 100,000 jobs in the same month, versus a median forecast for creation of 48,000 jobs. And annual inflation has accelerated to 8.17 percent, well above the government's 4.5 percent target, weighing on confidence.
Brazil's statistics agency will release first quarter GDP data Friday at 9 a.m. local time.
Stock Index
The benchmark Ibovespa stock index has risen 8.5 percent this year. The real has weakened 15 percent against the U.S. dollar, the worst performance among 24 emerging-market currencies tracked by Bloomberg.
Consumption has been the locomotive for Brazil's growth for more than a decade, and the best-case scenario this year is that it remains stagnant, according to Carlos Kawall, chief economist at Banco Safra. He forecasts a 0.4 percent decline in GDP in the first quarter and double that in the second quarter.
"Leading indicators are suggesting that the economy is not poised to have the type of front-loaded recession and a more V-shaped recovery," Kawall said by phone from Sao Paulo. "It's likely to take longer than what most people predicted, and certainly what we predicted."
Some government officials are more optimistic. Planning Minister Nelson Barbosa said May 22 the drop in GDP will be concentrated in the first half of the year, and that the situation is similar to 2009 when Brazil recorded its last recession, which lasted two quarters.
Levy considers estimates of a recovery in the second half of this year to be unrealistic, a government official with knowledge of his views said May 23. The official asked not to be named because the matter isn't public.
Analysts have lowered their 2015 growth forecast in 17 of the central bank's last 19 weekly surveys, to a decline of 1.24 percent. That would be the steepest fall in a quarter century. Brazil's economy had originally posted a technical recession in 2014, but methodology revisions restricted the contraction to one quarter.
There are risks that the economy could fare even worse than the median forecast of analysts in the central bank's survey, David Beker, chief Brazil economist at Bank of America Merrill Lynch, said in an interview in Rio de Janeiro. The second-quarter contraction will exceed 1 percent, after a 0.5 percent drop in the first quarter, he said.
"We don't yet know where the bottom is for the economy -- that's the problem," Beker said. "And I think first-quarter GDP won't give us indications as to where the bottom is."
Before it's here, it's on the Bloomberg Terminal.
LEARN MORE