The Best Advice Commencement Speakers Gave the Class of 2015
Graduation speeches. They are what they are. But remarks by the late and current CEOs of Apple offer advice applicable far beyond the office.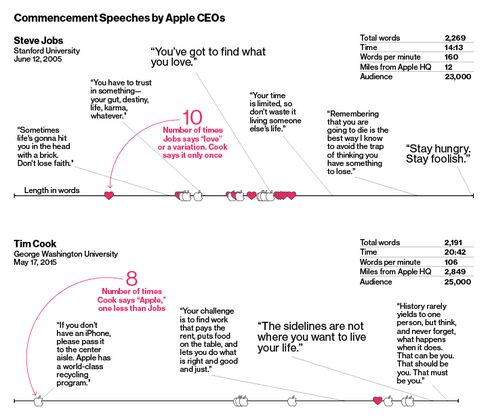 More wise words from this year's commencement ceremonies:
Mellody Hobson, President, Ariel Investments, University of Southern California, May 15
"Why limit yourself to the familiar? Make an effort to step outside your circle. Do more than just accept diversity: Seek out diversity. I promise it will make you more interesting, more informed, and more understanding."
Jeff Immelt, CEO, General Electric, Siena College, May 10
"If you don't know where you are going, you will go nowhere. The fact is, you can't predict the future. Rather, your goal should be to capitalize on each cycle."
Robert De Niro, Tisch School of the Arts, New York University, May 22
"Tisch graduates, you made it—and you're f---ed."
Evan Spiegel, CEO, Snapchat, USC Marshall School of Business, May 15
"I am now convinced that the fastest way to figure out if you are doing something truly important to you is to have someone offer you a bunch of money to part with it. … Whether or not you sell, you will learn something very valuable about yourself."

Matthew McConaughey, actor, University of Houston, May 15
"Let's admit it, we all got two wolves in us, a good one and a bad one, you know what I'm talking about— and they both wanna eat. … We just gotta feed that good wolf a little more than the other one."
George W. Bush, Former U.S. president, Southern Methodist University, May 16
"To those of you who are graduating this afternoon with high honors, awards, and distinctions, I say, 'well done.' And as I like to tell the C students, you too can be president."
Eric Schmidt, Executive chairman, Google, Virginia Tech, May 15
"The future doesn't just happen. It's not etched or written or coded anywhere. There's no algorithm or formula that says technology will do X, so Y is sure to happen. Technology doesn't work on its own. It's just a tool. You are the ones who harness its power."
Before it's here, it's on the Bloomberg Terminal.
LEARN MORE