China's Most-Wanted: Nabbed in New Jersey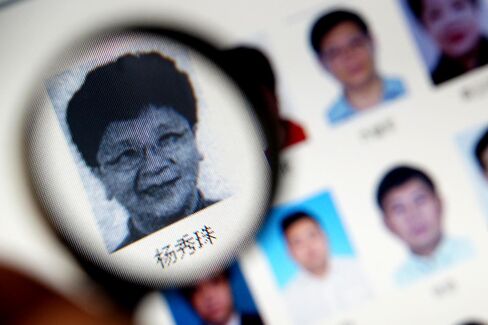 China's most-wanted fugitive, an official accused of embezzling more than $40 million, is in U.S. custody, according to the Communist Party's anti-graft agency.
Yang Xiuzhu, who fled China in 2003, was detained after entering the U.S. using a fake Dutch passport last year, according to the party's Central Commission for Discipline Inspection.
In the first confirmation of Yang's whereabouts in a decade, the commission's International Cooperation Department said she escaped from detention in the Netherlands in May 2014 - - after being rejected for political asylum and before she could be sent back to China.
A person going by the same name and born in the same year is in custody at the Hudson County correctional facility in New Jersey, according to a database maintained by the U.S. Immigration and Customs Enforcement agency.
"The momentum of cooperation with the U.S. is very good," Fu Kui, director of international cooperation at the CCDI, said in an interview in Beijing on Wednesday, in which he discussed China's campaigns to track and return suspects. "There has been some progress and examples of success and there is room for greater cooperation."
Repatriating former officials who have absconded is a key cog of President Xi Jinping's fight against corruption, which he has called a "life and death" matter for the party and the country. A former deputy mayor of the coastal city of Wenzhou, Yang, 68, was ranked number one on a list of 100 people China says are hiding abroad to avoid prosecution for graft.
No Escape
Catching these fugitives "is a key aspect of the anti-corruption campaign," Fu said. "If we leave an escape here, we won't be able to deter officials who think they can get away with corruption."
China has in recent months stepped up efforts to cooperate with and reassure countries such as the U.S. and Australia -- where it lacks formal extradition agreements and which may be uneasy about sending suspects back in case they face persecution. China's police are learning how to interact more with their overseas counterparts, share information and to use court orders.
Yang entered the U.S. by train from Canada and was caught last June after China provided the U.S. with her passport information, according to the CCDI. She used a passport of another Chinese Dutch person and replaced the photo with her own.
'Enforcement Priority'
Yang is in U.S. custody "pending removal to China for violating the terms of the Visa Waiver Program," ICE spokesman Lou Martinez said in a statement. "As a foreign law enforcement fugitive, Yang is an ICE enforcement priority."
Fu's department, which is also under the Ministry of Supervision, last year began coordinating China's efforts to find and bring back suspects from overseas. That campaign was dubbed Operation Sky Net in March, followed a month later by the release of the list of 100. The campaign includes Fox Hunt, an operation by the Ministry of Public Security to bring back suspects in economic crimes.
The third ranked person on the department's list, Qiao Jianjun, was indicted along with his ex-wife Zhao Shilan in March by the U.S. Justice Department on accusations they channeled stolen funds into the U.S. and fraudulently obtained U.S. visas. Zhao pleaded not guilty during her arraignment last week and will face trial in July. Qiao, a former director of a government grain storage facility, remains at large.
China's List
Forty of the 100 people on the list are suspected of being in the U.S. In an unprecedented public announcement, China compiled the list from the names it sent to Interpol and posted it on several government websites in April. Since last year, Fu said China has submitted 150 names of suspects believed to be in the U.S. for whom authorities are seeking American cooperation.
China informed the U.S. of Yang's information via the Joint Liaison Group on Law Enforcement Cooperation, a forum for discussions on hunting fugitives. Cooperation between the countries includes the exchange of information and evidence and has focused on violations of U.S. immigration and money laundering laws, Fu said. Yang's use of a fake Dutch passport was a "clear case of illegal entry, he said.
Embezzlement Charges
Janet Takens, a press officer at the Ministry of Security and Justice of the Netherlands, said the ministry wouldn't discuss individual cases.
Yang, who also oversaw construction in Wenzhou, was charged by Chinese prosecutors with embezzling 253 million yuan ($41 million), according to the official Xinhua News Agency.
She fled in April 2003 with a grand-daughter and other family members after authorities began probing her brother for corruption, and first surfaced in the U.S. before being apprehended by Interpol in the Netherlands in 2005, according to Xinhua. Since then her whereabouts had been unclear.
— With assistance by Fan Wenxin
Before it's here, it's on the Bloomberg Terminal.
LEARN MORE