Billion-Dollar Betting Law NHL Opposes Is Set to Die in Canada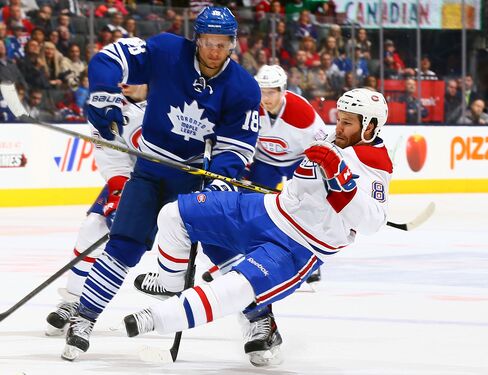 If you were hoping to bet big in a Canadian casino on the Super Bowl or World Series, you're probably out of luck.
A proposed law already passed by the House of Commons that would legalize single-game sports betting in Canada -- currently an estimated C$14 billion ($11.2 billion) market -- is in danger of dying in the country's Senate.
In killing the bill, Prime Minister Stephen Harper's Conservatives, who control the Senate, are choosing to forgo any windfall from what advocates argue would be a spike in jobs, tax revenue and cross-border gambling by U.S. tourists. Instead, they're deferring to warnings of increased game-fixing and addiction.
Bill C-290 would allow provinces to legalize single-game bets in addition to the multiple-game wagers currently allowed. It passed Canada's elected House of Commons on a voice vote in 2012 only to stall for three years in the Senate, a sign of the unelected chamber's enduring power.
Harper's Senate majority has delayed the bill rather than voting it down. Now the bill, and four others that have wallowed for at least two years, will die if they're not passed when the Senate rises next month. After that, Parliament won't sit again before the federal election scheduled for Oct. 19.
In the U.S., gambling on sports is mostly outlawed. Although New Jersey Governor Chris Christie is fighting a legal battle to open the door to it, and the head of the National Basketball Association wants it legalized, it's allowed in only four states. Amid the U.S. wrangling, New Democratic Party lawmaker Brian Masse sees a tourism opportunity.
'Regulate It'
"The reality is this: it's happening in the bars, back rooms and basements. With the click of a mouse, you can make these bets," Masse said. "Why not regulate it?"
The Canadian Gaming Association estimates Canadians already bet C$10 billion underground and C$4 billion online each a year on single games. Tapping into that market, advocates argue, would mean new jobs in casinos across the country and more government revenue.
"It's incredibly frustrating," said Paul Burns, vice president of the gaming association, which supports the proposed gambling law. "It's a bill the elected officials sure saw merit in."
While several provinces support the bill, it has stiff opposition. The National Football League, NBA, National Hockey League and Major League Baseball all testified against it, with the president of the Toronto Blue Jays raising fears of another "Black Sox" 1919 game-fixing scandal.
The bill is now set to fail without a final vote. Conservative Senator Bob Runciman, who supports the legislation and chairs the committee considering it, said in an e-mail the committee is "unlikely" to deal with it before the fall election.
Senate Scandal
Attention on the gambling bill comes at a trying time for Canada's Senate. The 105-seat body is under audit, faces calls for reform or abolition and one senator, Mike Duffy, is on trial for 31 criminal charges including fraud.
The Senate, whose members are appointed by the sitting prime minister and serve until age 75, was created as a so-called chamber of sober second thought. It has evolved into a rubber-stamp institution stacked with party loyalists and fundraisers, according to the opposition New Democrats.
A bill to bolster human-rights protections for transgender people and another to increase the powers of individual lawmakers are among those also languishing in the Senate. The sponsor of the transgender bill, New Democrat Randall Garrison, expects it to die and said he will re-introduce it if re-elected.
Stalling Tactics
In 2010, Harper's senators drew heavy fire for voting down a climate-change bill passed by the House of Commons. Delaying a bill to death avoids that fate -- a tactic now being used even against fellow Conservatives.
Independent MP Brent Rathgeber predicts the other bill -- the one to empower individual lawmakers, which was put forward by former Conservative cabinet minister Michael Chong -- will also die.
"It's the same basic tactic," said Rathgeber, who quit Harper's caucus in 2013. "You support it publicly, you support it in the House. On a day in committee where you hope nobody is looking, you eviscerate it or change it. If you're still not happy with it, you rag the puck and let time run out in the Senate."
Business Backing
The gambling bill doesn't specifically permit single-game betting but rather opens the door for provinces to allow it. James Cowan, the leader of the opposition Senate Liberals, said senators are divided on the bill.
The Canadian Chamber of Commerce is among those supporting it. "With only weeks left in this Parliament, the chambers again ask the Senate to pass Bill C-290," Perrin Beatty, the group's Chief Executive Officer, wrote in a letter to senators this month.
Masse believes he has enough support in the Senate to pass the bill, if were to come to a vote. He said legalized single-game betting would mean 200 to 300 jobs for a casino in his city, Windsor, Ontario, across the river from Detroit. The casino gets calls from as far away as Ohio and Kentucky during the National Collegiate Athletic Association Final Four basketball tournament, with gamblers asking if single-game betting is legal yet, Masse said in an interview.
'Negative' Impact
Conservative Senator Vern White opposes the bill, saying it will exacerbate gambling addictions and not lead to the rush of cross-border betting that advocates hope for.
"I don't see the positive side that comes out of casinos, but I do see the negative," said White, a former police chief appointed to the Senate by Harper in 2012. The Prime Minister's Office has not pressed him to slow or stall bills, White added.
Harper's office referred questions to the government leader in the Senate, Claude Carignan, who declined an interview request. His spokesman, Sebastien Gariepy, declined to detail why the bills have been delayed. "Senators will continue to work hard studying and debating the legislation that remains before them right up until the Senate rises," he said in an e-mail.
Before it's here, it's on the Bloomberg Terminal.
LEARN MORE