S&P 500 Sucker Punched as VIX Jumps 16% From Year's Lowest Level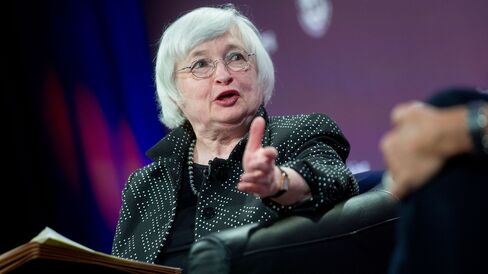 The calmest markets in six months and the best run of economic data this year spelled trouble for U.S. stocks after a three-day break.
The combination ignited yesterday, with the Standard & Poor's 500 Index falling more than 1 percent as a benchmark gauge for equity turbulence surged the most since January. The Chicago Board Options Exchange Volatility Index jumped 16 percent to 14.06.
Options traders were caught leaning the wrong way as speculation the Federal Reserve will raise interest rates shook investors returning from Memorial Day. For the VIX, it was only the second move of more than 15 percent all year -- compared with four in December alone.
"The market was not realizing any significant volatility over the last couple of weeks, particularly to the downside," said Dan Deming, a managing director at Chicago-based Equity Armor Investments. "Any type of significant selloff was going to have more of a slingshot effect on the VIX."
The VIX's violent reaction may have reflected a repricing in the index after the long weekend, according to Deming. The selloff followed the slowest week this year for domestic equities, which fluctuated in the smallest range in six months over the five days en route to a 0.2 percent gain.
On Thursday, the VIX closed at its lowest level of 2015 as the S&P 500 reached an all-time high. In the five-day period, the VIX's closing level averaged 12.54, its lowest for a week since one ending Sept. 5.
Economic Growth
U.S. stocks fell the most in three weeks as comments Friday from Fed Chair Janet Yellen that borrowing costs would be boosted this year were followed by data adding to evidence of a recovery in American economic growth after a first-quarter slowdown.
Reports on Tuesday showed orders for capital equipment in the U.S. rose for a second month, sales of new homes climbed more than forecast and a measure of regional manufacturing exceeded estimates.
Over the last week, economic data from housing starts to leading indicators have strengthened the case for higher interest rates, beating market forecasts by a large-enough margin to push the Citigroup Economic Surprise Index for the U.S. higher by the fastest rate all year.
Adding to pressure on equities is anxiety over Europe, where there has been little convergence in talks between Greece and its creditors as time runs out to secure a deal before the country needs to make payments to the International Monetary Fund in early June.
'Could Backfire'
"There's been a lot of chatter into the end of the month with the Fed and Greece," Deming said. "The market kept drifting higher but the feeling was 'boy, one misstep and this could backfire.'"
Tuesday's decline pared the S&P 500's advance for May to 0.9 percent. The gauge has climbed 2.2 percent this year, while the VIX has dropped 27 percent for 2015.
Hedging yesterday was concentrated in near-term options. The CBOE S&P 500 Short Term Volatility Index, a measure of nine-day hedging costs on the stocks gauge, soared 39 percent, its biggest daily jump since December. Four of the five most-traded S&P 500 contracts were puts expiring May 29, with strike prices ranging from 2,030 to 2,100.
Volatility Gauges
The slide in U.S. equities was a godsend for traders in VIX options expecting more turbulence. At the end of last week, they owned about 3.5 contracts wagering on upside in the volatility gauge for every option predicting downside, the highest ratio of calls to puts since October.
The VIX fell 0.1 percent to 14.04 at 9:43 a.m. in New York as the S&P 500 rose 0.3 percent.
It was only a matter of time for stocks' lull to mirror swings seen in other asset classes, according to Jim Strugger at MKM Holdings LLC. While the VIX fell to its lowest level in 2015, gauges of expected volatility in U.S. Treasuries and global currencies remained elevated.
"U.S. equity market resilience has been surprising to us in recent weeks," Strugger, a derivatives strategist at MKM in Stamford, Connecticut, wrote in a note Tuesday. The recent rally in U.S. stocks and the slide in the VIX "seemed improbable in the context of sustained elevation in volatility across asset classes and geographies," he wrote.
Before it's here, it's on the Bloomberg Terminal.
LEARN MORE