Detroit Goes After Silicon Valley for Driverless-Car Mantle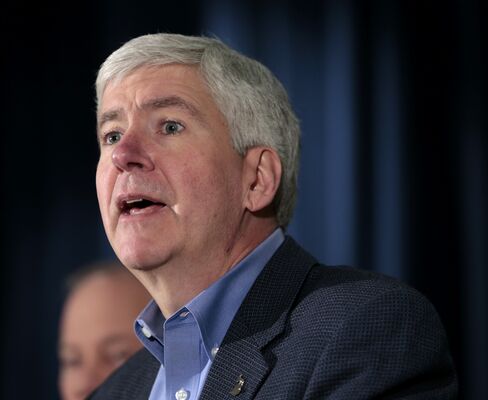 Detroit put the world on wheels and should be the place that takes the driver out of the driver's seat, according to a coalition of Michigan business leaders and politicians.
The MICHauto group unveiled an initiative Wednesday to promote Detroit and Michigan for development of a new generation of mobility, including self-driving cars. The coalition includes Ford Motor Co. Executive Chairman Bill Ford and General Motors Co. Chief Executive Officer Mary Barra.
"If you look at Europe, a lot of people look toward Germany as the place to make things," Michigan Governor Rick Snyder said in an interview. "I want Michigan to be viewed as the Germany of the United States, as the place to make things."
The effort is a response to Silicon Valley's growing automotive influence as companies such as Google Inc. and Apple Inc. develop driverless vehicles alongside electric-car maker Tesla Motors Inc. Michigan led the U.S. last year in connected-auto projects with 45, to California's 31, the group said.
"Detroit and Michigan are in the crosshairs of some very talented innovators in places like Silicon Valley," Doug Rothwell, president of Business Leaders for Michigan, a roundtable of top executives, said in a statement. "Michigan has to work quickly and cohesively to maximize our existing automotive resources in next-generation mobility."
'Crummy' Marketing
Snyder is concerned that his state is losing the public-relations war to Silicon Valley. That could cost Michigan thousands of jobs and billions of dollars in investment if the coming generation of auto development shifts to California.
"Our biggest constraint compared to Silicon Valley is we're crummy at marketing," said Snyder, a Republican, in an April interview in Ann Arbor, Michigan. "Much of the perception is Google and their car driving around Silicon Valley. We have exponentially more research going on within a few miles of here."
Snyder, Bill Ford and other business and political leaders are gathered this week at an annual policy conference on Mackinac Island, an old-world vacation destination where cars are outlawed and people travel by horse-drawn carriage.
The group promoting the state's leadership in automotive engineering and design includes Michigan Economic Development Corp., Business Leaders for Michigan, the state's Transportation Department and the University Research Corridor.
Executive Pitch
Snyder said in the Wednesday interview that he has asked auto executives to do better at explaining what the industry offers for specialists in science, technology, engineering and math.
"I've had discussions with all of them to ask, can they get more engaged in not just telling their stories and their success, but talking about what careers would be like in the auto industry," he said. With a car, "you're talking about a computer on wheels."
Southeastern Michigan, which includes Detroit, has the highest number of "advanced auto industry jobs," with 67,825, and businesses, with 462, in the U.S., the coalition said.
Leadership Challenge
"The challenge now is to maintain and capitalize on this advantage," Kevin Kerrigan, senior vice president of the automotive office at Michigan Economic Development Corp., said in the statement.
Technology is becoming a bigger part of the auto industry, which accounts directly or indirectly for almost 20 percent of jobs in Michigan, according to a 2014 study by the Center for Automotive Research in Ann Arbor. More than 32,000 people in metro Detroit work in computer-systems design, much of it tied to the auto industry, according to the Washington-based Brookings Institution.
Yet the perception of Michigan is that it remains mired in recession, rather than having an unemployment rate that fell to 5.4 percent in April, equal to the national jobless rate for the first time since September 2000. From 2006 through 2010, Michigan had the highest or second-highest jobless rate in the U.S., Snyder said.
"A place's perception tends to lag five to 10 years behind reality," he said. "I want to try to cut that in half."
Detroit in 2013 had the fourth-highest concentration of advance industry employment -- 14.8 percent of its work force -- among 100 of the largest U.S. metropolitan regions, according to Brookings. San Jose, known as the capital of Silicon Valley, ranked first, with 30 percent. The study examined 50 industries that employ 80 percent of U.S. engineers, produce 90 percent of private-sector research and development, and generate 85 percent of the nation's patents.
Expanding Market
In motor vehicles, computers control everything from engine and braking systems to lane-change sensors to dashboard touch screens for entertainment and communications. Technology is the top draw for 39 percent of car buyers, compared with 14 percent who care most about horsepower and handling, according to a 2013 survey from the Accenture consulting firm.
The number of cars connected to the Internet worldwide will grow to 152 million by 2020 from 36 million last year, according to IHS, a research and consulting firm.
Detroit faces a dire future if it doesn't significantly shift its focus to self-driving cars and shared mobility, according to an analysis published this month by Barclays Plc.
U.S. auto sales may drop about 40 percent in the next 25 years because of shared driverless cars, forcing mass-market producers such as GM and Ford to slash output, according to the report by Brian Johnson, a Barclays analyst.
Large-volume automakers "would need to shrink dramatically to survive," Johnson wrote. "GM and Ford would need to reduce North American production by up to 68 percent and 58 percent, respectively."
Snyder said the auto industry is "critically important" to Michigan's future and the state is doing "relatively well" in maintaining its lead in automotive research and development.
"We're in the hunt," he said. "Seventy-five percent of the research and development for the auto industry happens in Michigan."
Before it's here, it's on the Bloomberg Terminal.
LEARN MORE