Will the Next Philippine Government Be Nicer to China?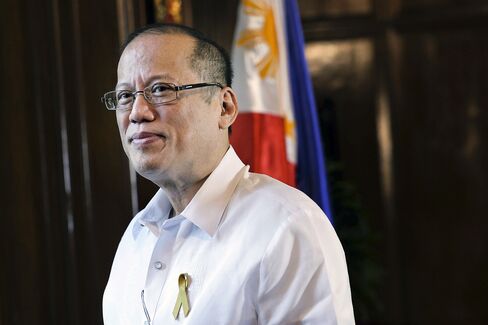 Time may be on China's side when it comes to its South China Sea territorial dispute with the Philippines.
The Philippines will elect a new president in less than a year, bringing a potential reset to ties that have deteriorated to the point President Benigno Aquino was once uninvited to visit China.
While candidates have yet to formally declare their plans, those regarded as front-runners are now flagging a softer approach on China, including possible joint exploration of resources in the sea. That would mark a return to the policies of Aquino's predecessor Gloria Arroyo, and could give the Philippine economy further support.
Under Aquino the Philippines, vastly outnumbered in soldiers, planes and ships, has taken China to an international court for arbitration on the South China Sea dispute. It has sought to rally support from other Southeast Asian nations for a tougher stance against China, and expanded an alliance with its ally the U.S.
China has rebuffed Aquino's actions, escalating the pace of building work on reefs and shoals it claims and using radio to warn Philippine boats and aircraft away from the area.
"Aquino's semi-confrontational approach has failed to deter China," Richard Javad Heydarian, a political science professor at De La Salle University in Manila, said by phone. "It may have exacerbated the situation by pushing China to solidify its de facto sovereignty through reclamation."
Joint Ventures
Vice President Jejomar Binay, a probable candidate for the May 2016 ballot, said he would seek to improve ties with China by pushing resource joint ventures in the South China Sea, the Straits Times reported in April, citing a radio interview.
"Always, diplomacy and a non-confrontational stance are ideal," Senator Grace Poe, Binay's closest rival based on a Social Weather Stations poll, said in a mobile-phone message. It's also the state's obligation to protect its territory and people, she said.
Poe said she expects a Senate committee probing China's reclamation to "recommend new approaches to solve the conflict that may include regional cooperation, joint exploration based on parity and law and continuing dialogue."
Aquino -- limited by law to a single six year term -- has indicated he'll announce his preferred candidate in the next few months, with contenders making their bids official in October.
Once he leaves office the Philippines could return to the policy espoused by Arroyo under a so-called Joint Marine Seismic Undertaking in the mid-2000s. Arroyo didn't renew the deal that expired in 2008 amid opposition from some lawmakers and legal experts.
More Arroyo
"Binay will almost certainly prioritize strengthening trade and investment ties with China while downplaying the disputes in the South China Sea -- in other words, more Arroyo than Aquino," said Ian Storey, a senior fellow at the Institute of Southeast Asian Studies in Singapore. "He may also be much less enthusiastic about bolstering Philippine-U.S. ties," including an increased U.S. presence, he said.
"The U.S., of course, will adopt a very dim view of Philippine flip-flopping," Storey said. More China-friendly policies could also stir opposition from the Philippine military.
China has quadrupled its reclamation in the South China Sea to 2,000 acres (809 hectares) and started building at least one airstrip and two lighthouses on the new islands. It claims more than 80 percent of the sea, overlapping with Vietnam, Malaysia, Brunei and Taiwan.
Limited Exploration
Taiwan's president Ma Ying-jeou on Tuesday urged joint development of the waters as part of a broader call for restraint on the territorial disputes. Taiwan is "willing to exploit resources in the South China Sea in cooperation with the other parties concerned," Ma said.
China and the Philippines contest areas near the northern Philippine province of Zambales and Palawan province in the southwest. The sea carries some of the world's busiest shipping lanes and is an artery for China's energy supplies from the Middle East.
There has only been limited exploration work in the sea and estimates of the potential for discoveries vary wildly. The Energy Information Administration says the area has proved and probable reserves of about 11 billion barrels of oil and 190 trillion cubic feet of natural gas.
Most of the undiscovered oil lies in coastal regions that aren't disputed, according to the EIA. The contested areas face geological and technological challenges, not least the depth of the waters and frequency of typhoons, it said.
China's reclamation work may cost $109 million in annual economic losses to countries near the disputed sea, the Philippine fisheries bureau said last month. More than 300 hectares of reef ecosystems in the Spratlys have been destroyed as of March, it said.
Deng's Approach
China has advocated joint exploration and said it will only negotiate on territorial matters in a bilateral setting.
The strategy harks back to the concept of "setting aside disputes and pursuing joint development" first advanced by China's then-leader Deng Xiaoping as a way of defusing tensions with Japan over islands in the East China Sea. In 1988 Deng told then-President Corazon Aquino "we can set aside this issue for the time being and take the approach of pursuing joint development."
"The Philippines doesn't want to be against China alone as a relatively small country, and China doesn't want to intensify the tensions in the South China Sea, so a better relationship matches the needs of both," said Zhu Feng, director of the Collaborative Innovation Center for South China Sea Studies at Nanjing University.
'Beautiful Rhetoric'
Still, Aquino's successor must take into account public opinion that has become more nationalistic, even if the issue is unlikely to be the biggest concern for voters. A softer tone from the Philippines could just be "beautiful rhetoric," Zhu said.
"The Philippines has made very clear that the South China Sea issue is the top priority for its national security, and it would be hard for the current leaders or future leaders to change their agenda or to step back easily."
The Philippine government's current reliance on U.S. support risks more tension with China, said Eduardo Tadem, professor of Asian Studies at the University of the Philippines.
"We need to stop thinking along the old colonial mindset that we should always please the U.S.," he said. "What's important is to bring about lasting peace in this area."
Before it's here, it's on the Bloomberg Terminal.
LEARN MORE