Rajoy Aims to Restore Calm After Historic Local Ballot Loss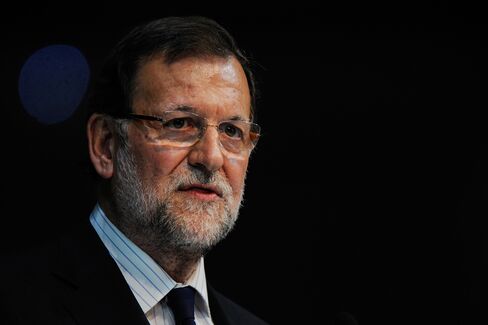 Spanish Prime Minister Mariano Rajoy fronted up to the public to explain his party's worst local-election result in 24 years in a bid to restore calm to his rattled supporters.
In a rare appearance in the press room at his People's Party's headquarters in Madrid, Rajoy acknowledged that his group had been disappointed by the result of Sunday's ballot, while insisting that with the largest number of votes nationwide the PP had won the election.
"We need to focus on broadening the confidence that we were given by Spaniards," Rajoy said. "The PP has suffered a notable loss of votes."
The PP is paying the price for four years of austerity and a raft of corruption scandals that left many of its supporters disenchanted. While the PP won the most votes in nine out of the 13 regions that also selected new leaders on Sunday, possible pacts between rival parties may see the PP kicked out of traditional strongholds such as Valencia or the Balearic Islands.
"We've been affected, as I've said on other occasion, by the corruption cases that have been made public recently, even though they come from a lot of time ago," Rajoy said.
Spanish stocks fell for a second day on Tuesday, declining 0.3 percent at 9:05 a.m. in Madrid. The yield on 10-year government bonds has risen 7 basis points this week to 1.85 percent.
Sea Change
Rajoy insisted that he is "very comfortable" about leading his party into the general election due around the end of the year and doesn't plan to make any changes to his government. The priority is to consolidate the economic recovery, the premier said after a meeting of the party's executive committee.
Rajoy and his traditional rival, the Socialist Party, are confronting a sea change in Spanish politics with younger voters in particular turning to the anti-austerity party Podemos, or its pro-market rival Ciudadanos. Podemos won control of Barcelona city hall and may also claim the mayorship of Madrid if it can secure backing from rival parties, while Ciudadanos holds the balance of power in the capital's regional assembly.
"We have to interpret this election as a vote of hope for a different type of politics," Thomas Piketty, the French economist whose 2013 book on wealth inequality became an international bestseller, said in an interview on France Inter radio. "Podemos is actually a very European, internationalist group. I think it's better to lean on movements like these to try and change Europe."
Time for Plots
The PP won 6 million votes in the local ballot, 27 percent of the total, down from 8.5 million in 2011, according to Interior Ministry data. Its advantage over Socialists narrowed to 454,000 votes from 2.2 million.
"It's the perfect environment for internal conspiracies," Lluis Orriols, a political scientist at Madrid's Carlos III University, said in a telephone interview. "The PP has lost a lot of ground which has called its leadership into question, but it's not yet lost La Moncloa," the premier's official residence.
Before it's here, it's on the Bloomberg Terminal.
LEARN MORE