Nigeria Fuel Shortages Ground Planes, Threaten MTN, Banks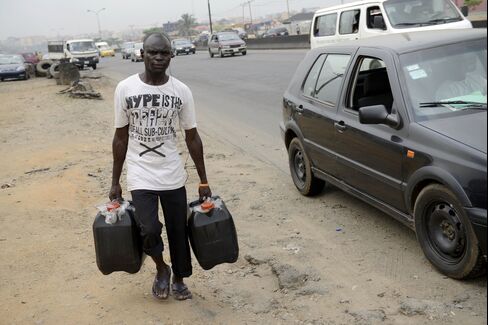 A fuel crisis in Nigeria has grounded airplanes, shut banks and threatens businesses including MTN Group Ltd.'s local operation, as gasoline and diesel retailers halt distribution over a pay dispute with the government.
MTN, Africa's biggest mobile phone company with 61 million customers in Nigeria, said in a statement it's running low on fuel reserves and its phone network will be "significantly degraded" if it doesn't receive supplies before Tuesday. Guaranty Trust Bank Plc, Nigeria's biggest lender, will close its offices at 1 p.m. local time from Monday because of the shortages, while Arik Air Ltd., the country's biggest carrier, has cut two-thirds of its 120 daily flights.
Bharti Airtel's local unit told its customers Sunday to expect "some strain" on its services due to fuel difficulties, while Uber Technologies Inc. said its Lagos taxi services are facing longer wait times due to gasoline scarcities.
Nigeria depends on fuel imports to meet more than 70 percent of its domestic needs and pays importers to guarantee cheaper local prices. Major fuel-marketing companies allege they're still owed 200 billion ($1 billion) in outstanding payments by the outgoing government of President Goodluck Jonathan.
"Marketers are not loading products," Isaac Aberare, secretary-general of the National Union of Petroleum and Natural Gas Workers of Nigeria, whose members drive fuel tankers, said by phone from the commercial capital, Lagos.
'Won't Supply'
Though the country's four state-owned refineries were built to refine 445,000 barrels per day of crude, enough to meet national demand of about 300,000, they're ill-maintained and run at a fraction of their capacity.
"They are asking for a balance of 200 billion naira," Paul Nwabuikwu, spokesman for Finance Minister Ngozi Okonjo-Iweala said today by phone from Abuja. The minister wants the claims verified "but the marketers are kicking against this and saying they must be paid or they won't supply."
Thomas Olawore, executive secretary of the Major Oil Marketers Association of Nigeria, didn't answer two calls to his mobile phone seeking comment.
"It's hurting the economy," Ikechukwu Iheanacho, who helps manage 10 billion naira of equities and bonds at Lagos-based Chapel Hill Denham Securities Ltd., said by phone from Lagos. "A number of companies across sectors have shut down. Those that are staying open will most likely pay a high cost."
President-elect Muhammadu Buhari will take over from Jonathan on May 29, causing anxiety among creditors that the new government may take longer to pay the claims, Olawore, head of the marketers body, said in a May 12 interview.
Before it's here, it's on the Bloomberg Terminal.
LEARN MORE