Nigeria Fuel Retailers End Dispute That Caused Shortages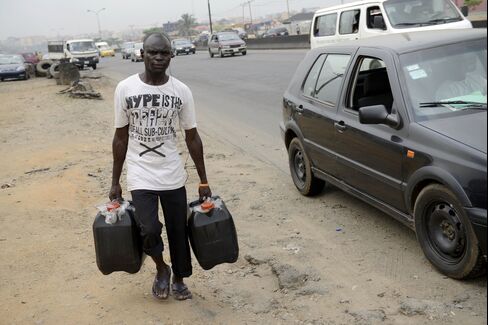 Nigerian fuel marketers agreed to resume supplying gasoline and diesel immediately to end the worst shortages in a decade that have grounded airplanes, shut banks and threatened businesses including MTN Group Ltd.
The agreement was announced in a statement issued by Nigeria's Senate after meeting with Finance Minister Ngozi Okonjo-Iweala and fuel retailers in Abuja, the capital of Africa's biggest oil producer. Major marketers of gasoline and diesel were holding back supplies because they say they're still owed 200 billion ($1 billion) in outstanding payments by the outgoing government of President Goodluck Jonathan.
MTN, Africa's biggest mobile phone company with 61 million customers in Nigeria, said in a statement it's running low on fuel reserves and its phone network will be "significantly degraded" if it doesn't receive supplies before Tuesday. Guaranty Trust Bank Plc, Nigeria's largest lender, would close its offices at 1 p.m. local time from Monday because of the scarcity, while Arik Air Ltd., the country's biggest carrier, has cut two-thirds of its 120 daily flights.
Bharti Airtel's local unit told its customers Sunday to expect "some strain" on its services due to fuel difficulties, while Uber Technologies Inc. said its Lagos taxi services are facing longer wait times due to gasoline scarcities.
'Political Risk'
While the country's four state-owned refineries were built to refine 445,000 barrels per day of crude, enough to meet national demand of about 300,000, they're ill-maintained and run at a fraction of their capacity.
Ifeanyi Uba, chief executive officer of Capital Oil and Gas Ltd., said his company already resumed distribution early on Monday from its Lagos storage where it has "close to 80 million liters" of gasoline.
"We might have a week lag in supplies arriving Nigeria at the very least," Dolapo Oni, head of energy research for Ecobank Group, said in an e-mailed response to questions from Lagos. "The banks have now classified lending to the sector as a political risk due to the huge exposure to the government."
President-elect Muhammadu Buhari will take over from Jonathan on May 29, causing anxiety among creditors that the new government may take longer to pay the claims, Thomas Olawore, head of the marketers body, said in a May 12 interview.
Before it's here, it's on the Bloomberg Terminal.
LEARN MORE