Goldman Sticks to Commodity Bear Call as Copper Vulnerable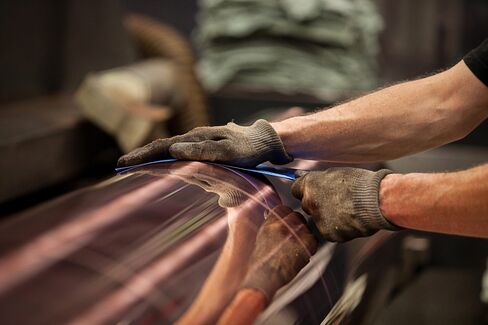 Commodities will reverse a rally that started in March as a stronger U.S. dollar, cheaper oil and cooling China again pressure raw materials, especially copper, according to Goldman Sachs Group Inc.
Copper will lose at least 16 percent over the coming 12 months on China's weakening demand growth and slowdown in construction completions, analysts including Jeffrey Currie said in a report e-mailed Monday. Oil in New York will fall to $45 a barrel by October while the dollar continues its rise, pushing commodities prices lower as production costs slide.
"We see downside pressures on commodity prices re-emerging," the analysts wrote in the report dated May 22. "The recent rise in commodity prices is clearly at odds with our lower-for-longer bearish view across the complex."
The Bloomberg Commodity Index of 23 raw materials has rebounded 5.7 percent since hitting a 12-year low in March. Copper in London and West Texas Intermediate crude both surged into bull markets after tumbling to their weakest points this year in January and March, respectively.
Copper is the most exposed to a stronger dollar and lower energy prices, as well as cooling demand growth from China, according to the report. The bank sees prices falling to $5,200 a metric ton in 12 months.
"We believe that current prices represent a very strong selling opportunity, for producers and investors alike," Goldman Sachs wrote in the report. "Despite the recent partial retracement in prices, the structural bear copper narrative remains intact."
Sustained Oversupply
Copper for delivery in three months on the London Metal Exchange lost about 1.5 percent to $6,161.50 a metric ton on May 22. Prices have fallen 11 percent in the last year.
LME copper spreads have softened over the past month, moving from backwardation to contango recently, which may reflect the weakness in the physical market evidenced by low or falling physical premiums, according to the report.
The oil market will be oversupplied through 2016 even as demand rises because the reduction in U.S. rig count is not enough to outweigh rising production efficiency, Currie wrote. Low-cost producers Saudi Arabia, Iraq and Russia are also expanding output, according to the bank.
Energy producers have shuttered more than half of the country's oil rigs since October, reducing production from the nation's shale formations and stemming a rout in oil prices that began last year. WTI for July delivery slid 0.8 percent to $59.23 a barrel in electronic trading on the New York Mercantile Exchange at 7:23 a.m. Prices are down 43 percent over the last 12 months.
Goldman is bullish on the outlook for zinc because of its high exposure to China's infrastructure and automotive sectors, its relative lack of exposure to dollar strength, and the closures of the Century and Lisheen mines.
The analysts put their 12-month zinc forecast at $2,500 a ton. Zinc in London settled at $2,178 a ton on May 22.
Before it's here, it's on the Bloomberg Terminal.
LEARN MORE