Schaeuble Expects Conflict at Dresden G-7 Over Austerity Policy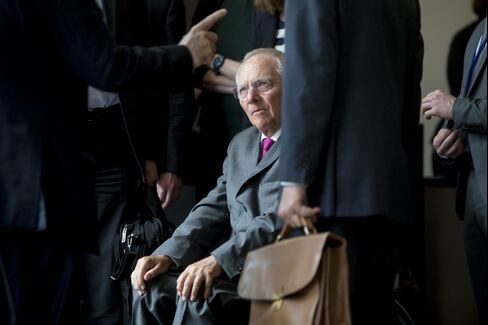 German Finance Minister Wolfgang Schaeuble expects a political tussle with his partners over austerity policy when G-7 finance ministers meet on May 27-May 29 in Dresden.
Germany's advocacy of budget cuts to heal euro-zone woes will come under attack at the meeting, Schaeuble said in a pamphlet distributed Saturday. The German government will face "demand-side" opponents of its policy in Dresden, he said without mentioning France or Italy or the U.S.
"'Demand-side' advocates will make clear in Dresden that cutting public spending leads to weaker demand for goods and services," the minister said in a pamphlet distributed in the Dresden newspaper Saechsische Zeitung. Germany's position is that "solid public finance" boosts investment and growth, he said.
Risks to Europe's economic outlook stemming from the unresolved Greek crisis as well concern over the U.S. trade gap may fuse an alliance of France, Italy and the U.S. in Dresden. All three states fret that Germany's rigorous advocacy of budget austerity may be holding back economic growth in Europe.
U.S. Treasury Secretary Jacob J. Lew urged Germany to boost public investment to spur imports from Europe and spark a cycle of economic growth that would also benefit the U.S. The U.S. trade gap widened in March to the biggest in more than six years while Germany in 2014 again reported a record surplus.
The U.S. has also called for a quicker fix of Greece's problems in a sign that it views Germany's unmoving insistence that Greece fulfill bailout terms as a risk. Lew said Friday that failure to reach a deal quickly would create hardship for Greece, uncertainties for Europe and the global economy.
Schaeuble remains adamant that Germany's stance on sound budgeting is the right one, if unpopular.
"Further convincing needs to be done" at Dresden, he said in his pamphlet.
Before it's here, it's on the Bloomberg Terminal.
LEARN MORE