Peru Declares Emergency in Islay After Mine Protest Deaths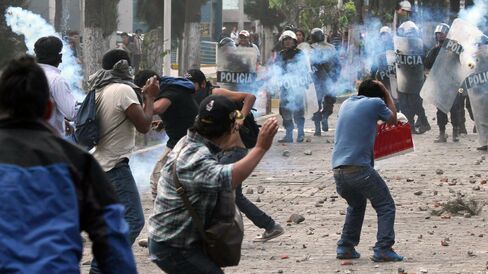 Peru declared a state of emergency in the coastal province of Islay after two months of protests of the construction of Southern Copper Corp.'s Tia Maria mine claimed a fourth life.
The armed forces will help police restore order in Islay for 60 days and some constitutional rights will be suspended, including freedom of transit and the right to hold meetings, according to a statement published Saturday in the state newspaper El Peruano.
Farmers in Islay began street protests on March 23, saying Southern Copper's proposed $1.4 billion project in the hills above the Tambo Valley would cause air and water pollution. One civilian died Friday in clashes with police after a group of 400 people sought to block the Pan-American Highway in Islay, Interior Minister Jose Perez told reporters in Lima. A local police station was later attacked with dynamite, Perez said.
"The government has made every possible effort to resolve this problem through dialogue," said Cabinet Chief Pedro Cateriano in a statement on his website. "But when the circumstances demonstrate that a minority group doesn't want to obey the constitution or the law, by attacking the rule of law, the government has the legal instruments" to maintain public order, he said.
The violence followed a week of calm in the province after Phoenix-based Southern Copper announced a 60-day suspension in the mine project and proposed talks with the local community. One civilian and a police officer were killed in clashes earlier this month after the death of a protester last month.
Peru deployed 4,000 military and police officers to Islay in the last month after protesters attempted to block the Pan-American Highway.
Oscar Gonzalez, a spokesman for Tierra y Libertad, a political organization supporting the protests, said the government's measures are unjustified. The report of an attack on the police station is false and has been used as a pretext for the government's action, he said by phone from the city of Arequipa, east of Islay.
"The state of emergency isn't going to change the view of the growers and inhabitants of the Tambo Valley" who oppose Tia Maria, Gonzalez said. "It could bring about some calm, but it won't resolve the underlying problem."
Southern Copper, which has two mines and a smelter in the South American country, is awaiting a construction permit from the government so it can start work on Tia Maria. The company is majority owned by Grupo Mexico SAB, based in Mexico City.
Before it's here, it's on the Bloomberg Terminal.
LEARN MORE