Mexico Shootout Leaves 42 Drug Gang Suspects, 1 Officer Dead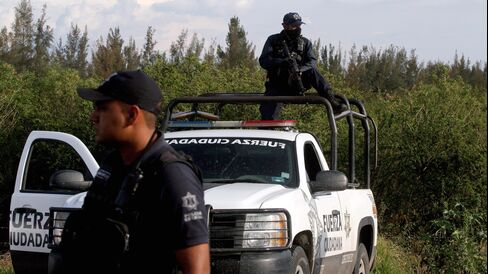 Violence erupted between Mexican federal forces and suspected drug gang members Friday in the western state of Michoacan, killing at least 42 of them and one police officer.
The showdown, in an area where the government has been cracking down on cartels, took place after police came upon a vehicle filled with armed passengers while investigating a complaint that a property had been seized, Mexico's national security commissioner Monte Alejandro Rubido said. The gunmen opened fire and police gave chase, entering the property they were investigating, Rubido said late Friday.
"The rest of the suspected criminals that occupied the property then began to attack," Rubido said. "The authorities requested backup from land and air, and a federal police helicopter arrived."
The shootout occurred in the municipality of Tanhuato, about 260 miles (420 kilometers) west of Mexico City.
The suspects dispersed into fields, leading to a three-hour hunt that ended in the arrest of three suspects from a gang operating in the neighboring state of Jalisco, Rubido said.
The clash came three weeks after a military helicopter was shot down in Jalisco killing six soldiers on board. That attack, which included roadblocks built from burning buses and debris at dozens of sites, was retaliation for a government crackdown of the Jalisco New Generation drug cartel, Excelsior newspaper reported at the time.
After Friday's shootout, 39 firearms and one grenade launcher were seized, Rubido said, noting that the 42 dead was a preliminary count. Mexico's state and national human rights commissions have been inspecting the scene, he added.
Drug violence in Mexico has left more than 70,000 dead since December 2006, according to the newspaper Milenio, and the government says more than 20,000 others are missing.
Before it's here, it's on the Bloomberg Terminal.
LEARN MORE