Bordeaux 2014 Pricing Highlights Value in Older Vintages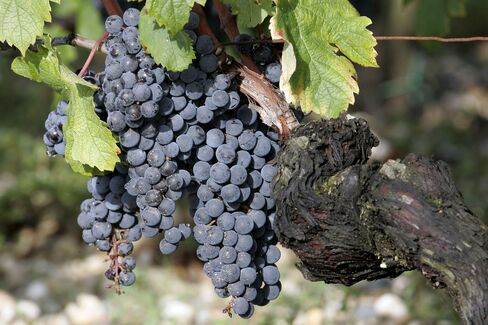 The pricing of Bordeaux 2014 wine highlights value in back vintages, particularly those predating the high-quality 2009 and 2010 crops, according to London-based wine investment managers and trade executives.
"There are a handful of wines that are getting people excited and that are worth considering, but the majority of releases simply aren't giving the private-client consumer buyer enough reason to buy early," said Nick Martin, founder and chief executive officer of Wine Owners Ltd.
Most top Bordeaux 2014 releases tracked by the Liv-ex market have shown increases in price relative to the 2013 vintage, reflecting higher critical ratings for the more-recent crop. Merchants for Bordeaux estates currently have a large stock overhang of the 2011-2013 vintages.
"I think what there isn't is a renewed sense of excitement," Martin said. "What it's also done is further shone a spotlight on the fact that there is real value in the back vintages such as 2006s, particularly in Pomerols, and perhaps 2008s."
London wine fund managers made a similar assessment in recent market reports.
"The Internet has naturally led to greater secondary market transparency, and based on current prices, that is where the value lies," Wine Asset Managers LLP wrote in its latest market report. "The Bordeaux 2014 en primeur campaign has been stumbling on over the past few weeks and is noticeable for how unnoticeable it is."
"We would expect the overall impact of this year's en primeurs to be neutral," The Wine Investment Fund said in its May market report. "We focus instead on more mature vintages where there is greater value to be found."
Investors who have bought left-bank first-growth Bordeaux over the past five years have mostly lost money, according to Liv-ex data.
Prices for all vintages of Chateau Lafite-Rothschild and Chateau Haut-Brion between 2009 and 2013 declined relative to their merchant release prices through the start of this year, while for Chateau Margaux and Chateau Mouton-Rothschild the same holds true except for the 2012 wines.
For Chateau Latour, investors who bought its vintages between 2009 and 2011 lost money, while the estate has since taken itself out of the futures system altogether, preferring to put wines on sale when they have had more time to mature.
Recent release prices for Bordeaux 2014 wines include Chateau Leoville Barton, priced at 44 euros ($49) a bottle from Bordeaux merchants and up 3.5 percent from 2013, and Chateau Beychevelle, at 43.20 euros, up 12 percent from the previous year, according to Liv-ex data.
Before it's here, it's on the Bloomberg Terminal.
LEARN MORE