Shenzhen Stocks Rising 500% Dwarf Hong Kong Shares Wild Ride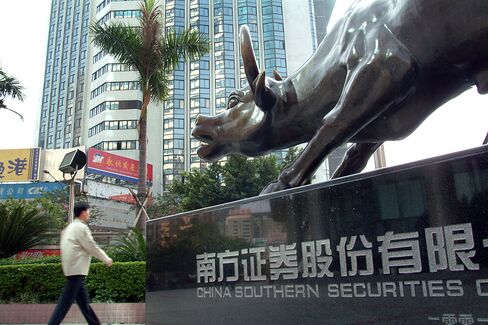 In Shenzhen, home of China's hottest stock market, rallies of more than 500 percent aren't unusual. What's become rare are the type of corrections that rocked Hong Kong this week.
Hanergy Thin Film Power Group Ltd. and Goldin Financial Holdings Ltd. plunged more than 45 percent in Hong Kong after surging more than sixfold in the past 12 months. Across the border in Shenzhen, there are 103 stocks that rallied that much in a year, compared with only four in the former British colony. Among the 1,721 stocks on the Shenzhen Composite Index, four have declined this year.
The Shenzhen benchmark jumped 12 percent this week, the most since 2008, as turnover topped trading in both Shanghai and Hong Kong. Investors have piled into the non-state companies that dominate the Shenzhen bourse after the government pledged to support developing industries, including technology and health care, to shift the economy away from manufacturing and property development.
"Hanergy and Goldin are a good reminder for investors in China," Ronald Wan, chief executive at Partners Capital International Ltd. said in Hong Kong. "They have a close similarity with many stocks in Shenzhen which have rallied based on speculation rather than fundamentals."
The 103 stocks in the Shenzhen 500 percent club trade at an average 375 times reported earnings, while their average market capitalization has risen to $3.5 billion, according to data compiled by Bloomberg. Many of them recently sold shares for the first time.
Car Seats
The best performer is Beijing Baofeng Technology Co., a developer of online movie players, which has jumped 3,822 percent since its initial public offering two months ago and made its chairman Feng Xin a billionaire. Zhejiang Longsheng Auto Parts Co., which makes car-seat parts, has climbed about 1,600 percent in the past year to trade at almost 600 times profits. Wanda Cinema Line Co.'s 1,047 percent rally since its January IPO turned it into a $22.1 billion company.
While moves in Hong Kong stocks aren't limited by trading caps, companies on mainland bourses are only allowed to gain or fall by a maximum of 10 percent on a daily basis -- except on the first day of trading, when the shares can rise as much as 44 percent.
Shares on the Shenzhen board have also rallied before the start of a exchange link with Hong Kong, which will expand foreign investors' access to smaller companies. Hong Kong Exchanges & Clearing Ltd. is preparing for the Shenzhen program to begin in the second half of 2015, while the date may be announced by the end of June, Chairman Chow Chung Kong said last month.
Stock Valuations
The Shenzhen Composite gained 1 percent at the close. The gauge has jumped 166 percent in the past year, dwarfing rallies in Shanghai and Hong Kong, and trades at 67.2 times earnings. That's at least three times valuations on Hong Kong's benchmark Hang Seng Index and the Shanghai Composite Index.
Technology, consumer and health-care companies comprise almost half of the city's stock index, while state-backed banks and industrial conglomerates dominate Shanghai's bourse.
Before it's here, it's on the Bloomberg Terminal.
LEARN MORE