Oaktree's Marks Says Europe Better Bet Than 'Highly Priced' U.S.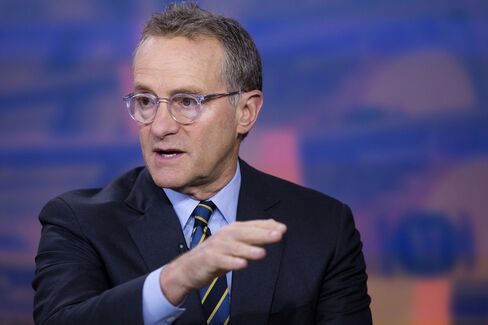 Howard Marks, co-chairman of the world's biggest distressed-debt investor, Oaktree Capital Management, said Europe has become more attractive than the U.S. even with "virtually all assets trading above their intrinsic value."
"Europe is offering us somewhat better opportunities," Marks, 69, said in an interview in London. "We are seeing some opportunities that -- on a like-for-like basis -- offer better risk-adjusted returns than in the U.S. at the moment." The firm has 140 employees in the U.K. capital looking for deals compared with three in 1998, he said.
The orientation toward Europe by Los Angeles, California-based Oaktree comes as North American companies prove more popular with private-equity firms than their European counterparts. Buyouts valued at $73.9 billion were completed in U.S. in 2014, against $39.8 billion in Europe, according to data compiled by Bloomberg.
The U.S. is probably the best-performing major economy in the world, "even if it's not that strong," said Marks. The resulting capital inflows meant most assets are relatively highly priced compared with other regions, he said. Oaktree's recent deals on the continent include U.K. business lender Ezbob and German rail leasing group Railpool.
"We are at a point in the cycle where we feel virtually all assets are trading above their intrinsic value; some are in 'highly priced' territory, and there are few absolute bargains available," said Marks. "However, on the basis of our history with cycles, we believe there's somewhat further to go before we reach peak exuberance, and thus peak prices."
Before it's here, it's on the Bloomberg Terminal.
LEARN MORE