Mali Wants Regional Military Force as Rebel Violence Surges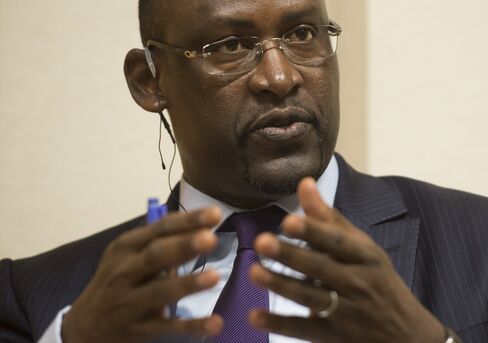 Mali says it needs help from a special military force to prevent militants including allies of Islamic State in southern Libya from further destabilizing the country.
Islamist groups remain a "big concern" as the West African nation struggles to contain a surge in bombings and other attacks this year, Foreign Minister Abdoulaye Diop said in a May 19 interview in Accra, Ghana's capital.
"Islamic State isn't far away," Diop said. "There are terrorist groups in Mali who are following closely what's happening in southern Libya and in Nigeria," where Boko Haram militants are waging a violent campaign to impose Islamic law, or Shariah.
Mali has been rocked by militant attacks since the overthrow of Libyan leader Muammar Qaddafi in 2011 flooded the Sahel region with looted weapons. The French and the United Nations sent troops to Mali in 2013 to regain control of the vast and sparsely populated north after Islamists invaded the area and fought alongside separatists. Africa's third-biggest gold industry hasn't been affected by the violence.
A regional military force could cooperate with the 11,500-member UN peacekeeping mission and should consist of soldiers from countries facing similar threats as Mali, such as Niger, Mauritania, and Chad, Diop said.
France, the former colonial power, has 3,000 soldiers in the region including Mali as part of its Barkhane military operation to fight militants in the western Sahel and in the Sahara. The Sahel is a semi-desert that stretches across the continent from Mauritania in the west to Sudan in the east.
Land-Mine Explosions
A string of bombings and land-mine explosions has targeted UN personnel this year, killing at least four peacekeepers, while an attack at a restaurant in the capital, Bamako, in March, left five people dead. That incident was the first deadly attack in the capital and claimed by al-Mourabitoune, an Islamist group allied with al-Qaeda.
The mandate of the UN mission isn't strong enough to keep back Islamists, said Diop, who served as Mali's ambassador in Washington until 2009.
"They're not equipped to fight terrorism," he said, referring to UN troops. "It's no longer just a peacekeeping environment. It's an environment marked by terrorism and instability, with direct attacks on the population, on UN soldiers, and the security forces."
Even though the UN Security Council rejected Mali's proposal for a stronger regional force last year, Diop said he's convinced that "we're heading toward a much more robust mechanism sooner or later."
Military Targets
Lawlessness in the region has made it a hotspot for smuggling weapons, people and cigarettes. "There's a criminal economy in the north that finances and sustains the conflict," said Diop. "Drug traffickers, people smugglers, hostage takers -- it's not in their interest to have peace."
The Al-Qaeda in the Islamic Maghreb has been active in the region for more than a decade, claiming responsibility for kidnappings and attacks on military targets in Algeria, Niger and Mauritania since 2006. Separatists seeking autonomy in the north have led rebellions in Mali since the 1960s.
Diop's comments mirror public sentiment in Mali, where citizens regularly voice fierce criticism of the UN on radio talk shows and Internet forums.
Peace Agreement
Concluding eight months of negotiations led by Mali's northern neighbor Algeria, the government last week signed a peace agreement with several armed groups.
The peace agreement is seen by the UN and other mediators as crucial to restoring state authority in the lawless north. Two key rebel groups led by ethnic Tuareg separatists refused to sign the deal despite agreeing in principle last month. Islamist groups didn't take part in the talks.
Diop said that while the talks will continue, the possibility for the Tuareg groups to sign the accord "won't remain open indefinitely."
"The situation on the ground is very unstable, it's critical, it's time for them to take a decision so that we can go ahead and implement" the May 15 peace deal, he said.
Before it's here, it's on the Bloomberg Terminal.
LEARN MORE