Lumber Liquidators CEO Abruptly Quits Amid Probe of Flooring
Lumber Liquidators Holdings Inc. Chief Executive Officer Robert Lynch unexpectedly resigned from his post, adding to the turmoil for a company facing a federal investigation over allegations that it sold toxic flooring.
Company founder Thomas Sullivan is serving as CEO during the search for a permanent replacement, Lumber Liquidators said Thursday in a statement. Lynch also stepped down from the board, and John Presley, the company's lead independent director, will become nonexecutive chairman.
Lumber Liquidators is trying to win back customers after "60 Minutes" reported on March 1 that it sold Chinese-produced laminate flooring with toxic levels of formaldehyde, a known carcinogen. While the company assured consumers its products are safe, sales have slid and the U.S. Consumer Product Safety Commission is probing the allegations. Lynch's exit comes about three weeks after the company replaced Chief Financial Officer Daniel Terrell without giving a reason.
"The optics of this are that the board is not in control of the situation," said Bradley Thomas, an analyst at Keybanc Capital Markets Inc.
John Feld, a spokesman for Toano, Virginia-based Lumber Liquidators, declined to comment beyond the statement.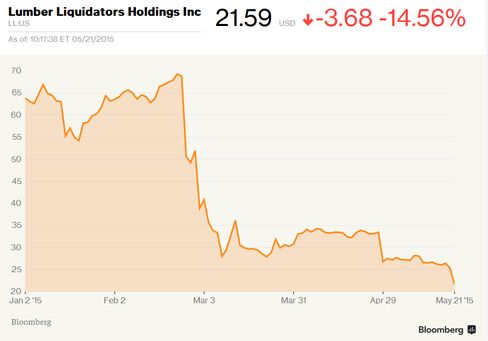 The shares tumbled 17 percent to $21.10 at the close in New York. Lumber Liquidators has now declined 68 percent this year.
Lynch Tenure
Lynch joined the chain as chief operating officer in January 2011 after stops at Orchard Supply Hardware and Home Depot Inc. A year later he became CEO, replacing the retiring Jeffrey Griffiths. Sullivan was CEO from the founding of the company in 1994 through 2006, when he made way for Griffiths.
Raymond James analyst Budd Bugatch downgraded Lumber Liquidators' stock to the equivalent of a hold from a buy after Lynch's exit.
"This announcement underscores that there is no timetable for these issues being resolved," Bugatch said in a research note.
Lumber Liquidators initially defended its products and criticized the reporting of "60 Minutes," saying that the story was fueled by short-sellers. The company stopped offering Chinese-made laminate -- which accounted for about 14 percent of its sales in the first two months of the year -- on May 7.
When asked that same day if the company was still willing to say its products are safe, a company spokesman declined to comment beyond the statement.
Undermines Denials
Investor Whitney Tilson, who helped pitched the story idea to "60 Minutes" and appeared in the report, said Lynch's exit undermines the company's denials.
"If Lumber Liquidators was a good company with no formaldehyde problem -- or was the innocent victim of nefarious Chinese suppliers –- Lynch never would have resigned," Tilson, who went public with his short of the company in November 2013, said in an e-mailed statement.
Feld declined to respond to Tilson's comments.
As it suspended sales of the Chinese-made laminate, the retailer also created a special board committee to review its suppliers in the country with help from former FBI director Louis Freeh's consulting firm. The company said then that its Chinese suppliers had certified and labeled the flooring as compliant with standards in the U.S.
The "60 Minutes" report has rippled throughout the flooring industry. Home-improvement retailer Lowe's Inc. earlier this month stopped selling a line of Chinese-made laminate flooring after one of Lumber Liquidators' critics raised questions about the brand's safety.
The allegations have not only hurt Lumber Liquidators' sales but also prompted dozens of lawsuits. Legal costs weighed on the chain's profit last quarter as it reported an unexpected net loss.
"There is a great degree of uncertainty on sales and earnings for the rest of this year," said Keybanc's Thomas, who has the equivalent of a hold rating on the shares. "This could still get worse before it gets better."
Before it's here, it's on the Bloomberg Terminal.
LEARN MORE