Gunfire Rocks Burundi Capital After President Says Nation Secure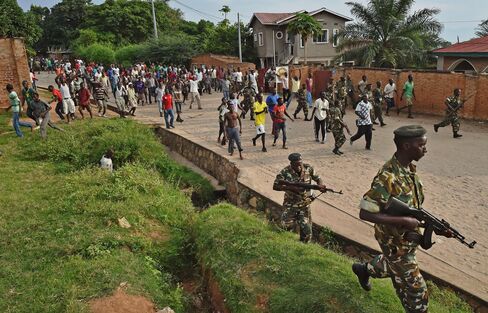 Gunfire rocked a district of Burundi's capital, Bujumbura, as President Pierre Nkurunziza said most of the country was secure and urged those protesting his bid for a third term to join political campaigns instead.
Members of the police entered the Musaga area late Wednesday to recover two cars abandoned by officers and began firing live ammunition, opposition campaigner Charles Niyungeko said by phone. Gunshots were still heard Thursday morning as protests resumed in the city.
"The cars were given to the army, but the police entered by force and we fear there are many victims," Niyungeko said. "No one is there to see what is happening." Army and police spokesmen weren't immediately available to comment.
More than 20 people have died in unrest since last month and 105,000 have fled to neighboring countries, fearing a return to conflict in a nation where 300,000 people died in a civil war that ended in 2005.
Nkurunziza, who fended off a coup attempt last week, has said he will delay a legislative vote by a week to June 5 to give organizers more time to prepare and presidential elections will proceed as planned on June 26. He's seeking to extend his rule even as opponents say a further term would violate peace accords that brought an end to Burundi's conflict.
"You ought to know that 99.9 percent of the country is secure," Nkurunziza said in a national address aired by the state broadcaster late Wednesday. Protesters should get off the streets and join political campaigns if they want to be part of civic life, he said. His government has previously said that demonstrators would be suspected of involvement in the thwarted coup.
Before it's here, it's on the Bloomberg Terminal.
LEARN MORE