Goldman: These Are the 100 Most Important Stocks to Hedge Funds
The long and short of hedge fund positioning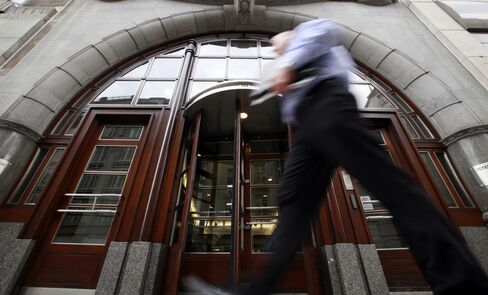 Goldman Sachs is out with its latest "Hedge Fund Trend Monitor," shedding light on which stocks the "smart money" is flowing into.
The note lists the stocks that appear most frequently in the top ten holdings of fundamentally-driven hedge funds. Goldman's analysts, led by Ben Snider, limited its hedge fund universe to those with 10 to 200 distinct equity positions "in an attempt to isolate fundamentally driven investors from quantitative funds or funds that mirror private equity investments."
Our hedge fund VIP list offers investment ideas and tracks long exposure of hedge funds. By construction, the VIP list identifies the 50 stocks whose performance will largely influence the long side of many fundamentally driven hedge funds.
Goldman goes on to say that this basket has outperformed the S&P 500 in 66 percent of quarters since 2001 by an average of 73 bp with an information ratio of 0.28, but has lagged the S&P 500 by 9 bp year-to-date through May 15 albeit barely (3.8 percent vs. 3.9 percent). Snider also points out that the list contains stocks from most sectors, but telecommunication services and utilities are absent.
The basket overweights the Consumer Discretionary sector (22%) and underweights Consumer Staples (2%) relative to the broad market index. Turnover for the basket during 1Q 2015 was significantly below the historical average, as it has been in the last few quarters, with 13 new stocks entering the list compared with an average quarterly turnover of 17 stocks since 2001.
New additions are AerCap Holdings, Assured Guaranty, Baker Hughes, Citizens Financial Group, Colony Capital, Dresser-Rand Group, Family Dollar Stores, Hospira, Netflix, NXP Semiconductors, Pharmacyclics, Visa, and Walgreens Boots Alliance. Here's the full list.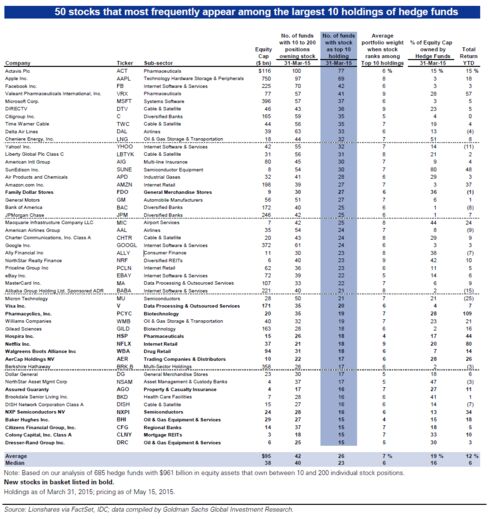 The firm then goes on to list the 50 stocks representing the largest short positions. Big names on this list are AT&T, Caterpillar, General Electric, Chevron, and Coca Cola. New additions to the list include Duke Energy, Amgen, Cisco, Marriott and others that are bolded in the list below.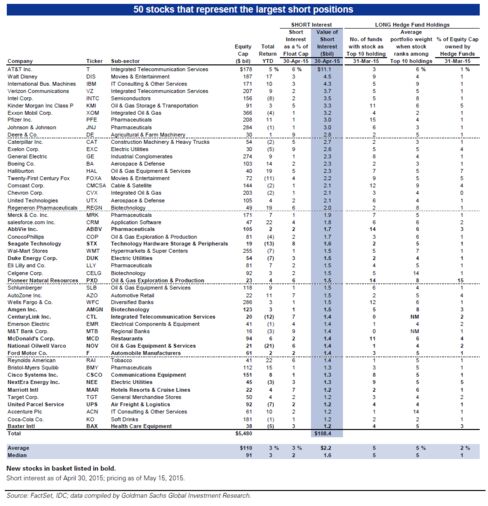 Before it's here, it's on the Bloomberg Terminal.
LEARN MORE