Gap Fails to Beat Profit Estimates for First Time in 8 Years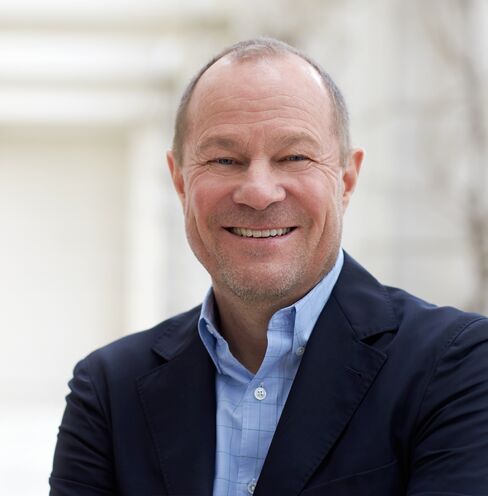 Gap Inc. failed to top analysts' quarterly profit estimates for the first time in almost eight years, a sign its namesake brand remains mired in a slump.
Earnings declined to 56 cents a share, the San Francisco-based company said in a statement on Thursday. Though that matched analysts' predictions, Gap investors are accustomed to seeing more. The company had previously beat estimates 31 quarters in a row, according to data compiled by Bloomberg.
While the lower-end Old Navy chain has helped prop up sales, both the Gap and Banana Republic brands are struggling. To get the company back on track, Chief Executive Officer Art Peck is retooling the product lineup and cutting expenses. The question is how long it will take to see results. The Gap division saw same-store sales tumble 10 percent last quarter, and Banana Republic posted an 8 percent decline.
"It's a thing of beauty when Old Navy is firing on all cylinders and has now for several seasons running," Peck said on a conference call. "On the flip side, I continue to be disappointed but not surprised by Gap's performance. I can promise you that the team is all over it."
Shares of Gap, the biggest apparel-focused retailer in the U.S., slipped 1.4 percent to $38.01 on Friday in New York. The stock is down 9.7 percent this year.
Sales Drop
Total same-store sales -- a benchmark that measures locations open at least a year, plus online orders -- dropped 4 percent last quarter. Comparable sales at Old Navy rose 3 percent in the period. Gap also maintained its earnings forecast for the year, predicting $2.75 to $2.80 a share.
"Gap's offering, particularly women's, continues to be off trend, while Old Navy's is being well received by customers," Howard Tubin, a New York-based analyst at Guggenheim Securities, said in a note to clients on Friday.
Peck, who was promoted to the CEO job in February, said the company is focused on stocking products that resonate with shoppers. The company will pull back on expenses, including marketing for the Gap brand, until the products improve, he said on the conference call. The company expects results for the brand to bounce back next spring.
"On top of managing in season, we're obviously working extremely hard to make every improvement that we can to the outlying seasons, including holiday and most importantly, spring," he said.
The company will continue to invest in Old Navy as well, including testing a new, small-store format this year. Smaller, more productive spaces -- where there wouldn't be room for a full Old Navy or Gap store -- is a "big opportunity" for the retailer, Peck said.
Before it's here, it's on the Bloomberg Terminal.
LEARN MORE