China's Sea Actions Bring Vietnam, U.S. Closer, Says Osius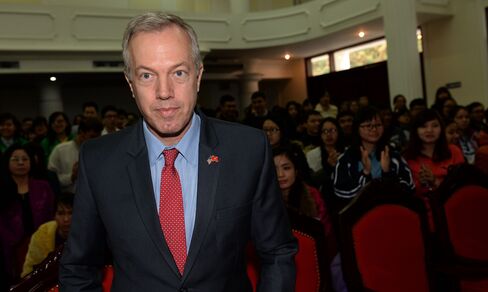 China's territorial maneuvers in the contested South China Sea are bringing its Communist neighbor Vietnam and the U.S. closer together, according to the new ambassador to Vietnam, Ted Osius.
In his first interview with a Western news organization since arriving in December, Osius said human rights concerns remain an obstacle to even deeper ties that may lead to the lifting of a ban on the sale of lethal weapons to Vietnam. Even so, the former war foes are holding more high-level talks, particularly over how to manage tensions with China, he said in an interview on Thursday in Hanoi.
In recent weeks China's Navy has followed a U.S. coastal combat ship in the South China Sea and warned off a U.S. surveillance plane by radio, causing unease among other claimant states such as Vietnam and the Philippines. The U.S. and Vietnam both view China's assertions in what is a major global shipping lane as a threat to their strategic interests.
"That has caused us to cooperate more closely than in the past," Osius said at the ambassador's residence. "It's beneficial to both countries to have a strong partnership. We see the importance of powerful partnerships where our partners are more and more capable."
China, which contests more than 80 percent of the South China Sea and has been building new islands on reefs in the waters, said last week it reserves the right to establish an Air Defense Identification Zone over the area. It placed an oil rig last May near the Paracel islands that are also claimed by Vietnam, triggering a diplomatic row and violent anti-China protests in its neighbor.
'Leave Immediately'
"The way we want to go is through diplomatic pressure" to defuse the South China Sea tensions, Osius said. "This does not have to end in conflict. There are many, many ways to avoid this ending in conflict."
Chinese Foreign Ministry spokesman Hong Lei said on Thursday the country should be allowed to maintain security over islands it's building in the waters. China is "entitled to the surveillance over related airspace and sea areas," Hong said.
The Chinese navy issued eight warnings Wednesday to a U.S. P8-A Poseidon conducting surveillance flights over the islands, according to CNN, which was aboard the plane. A radio message received by the U.S. plane said: "This is Chinese navy. You are approaching our military alert zone. Leave immediately." The P8 crew responded that the aircraft was flying through international airspace, CNN said.
U.S. Defense Secretary Ashton Carter is scheduled to visit Vietnam at the end of May, during which military cooperation will be discussed, Osius said. Carter will go to the annual Shangri-La defense forum in Singapore, which senior Chinese military officers usually also attend.
Vietnamese Visitors
The partnership between the U.S. and Vietnam "is deepening -- weekly, if not daily," Osius said. "We have a huge amount of back and forth at the very highest levels. This year there will be five or maybe six politburo members going to the United States. We will have several cabinet officials and maybe an even bigger visit than that from the United States to Vietnam."
Bilateral trade between the U.S. and Vietnam soared to $36 billion last year from $451 million in 1995, according to the U.S. Census Bureau. The U.S. is providing Vietnam with six patrol boats and has lifted a decades-long ban on the sale of non-lethal weapons to the country.
Vietnam is engaged in delicate diplomacy, according to Nguyen Manh Hung, a professor emeritus at George Mason University in Virginia. While it seeks closer ties to the U.S. it must be mindful not to upset China, its biggest trading partner in 2014.
"There are a lot of differences between Vietnam and the U.S.," he said by phone. "There are still suspicions. And Vietnam does not have unity of command. It has a lot of internal differences that makes it difficult for Vietnam to make a dramatic move in foreign relations."
Cam Ranh
Osius, who served as a political officer in Vietnam from 1996 to 1998, has seen ties evolve from postwar suspicion to collaboration since diplomatic relations were normalized 20 years ago.
"I was here 20 years ago and there was only one subject we talked about: POW/MIA accounting," he said. "This was unthinkable 20 years ago -- to achieve this level of collaboration and to have identified so many areas of common interests. It's quite amazing."
The U.S. now has limited ship repair access to Cam Ranh Bay, a strategic hub for American forces during the war that later became a Soviet base. The U.S. does not want to permanently station ships there, Osius said.
More than a dozen global defense contractors -- most of them based in the U.S. -- met last month with military officers in Vietnam to discuss the potential sale of equipment.
Before it's here, it's on the Bloomberg Terminal.
LEARN MORE