All Eyes on Pfizer as Shareholders Await the Mega-Deal: Real M&A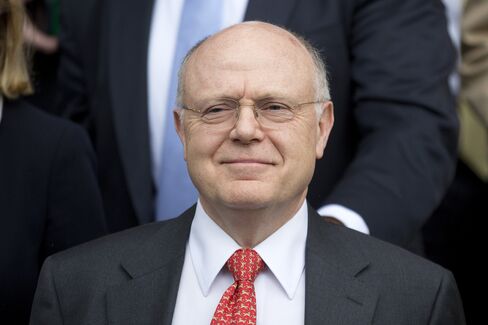 Pfizer Inc. built itself into a $212 billion behemoth by spending more money on acquisitions than any other drugmaker in the world. Still, Pfizer's next purchase is what will really leave its mark as a dealmaker.
The company may be plotting its biggest purchase yet to solve its biggest gripe: taxes. It pays a higher rate than most of its rivals, and Chief Executive Officer Ian Read has made it no secret that he wants to change that. It made a failed run at AstraZeneca Plc last year in what would have been a $120 billion tax-inversion deal.
As speculation about a deal mounts again, analysts this week began picking their top takeover candidates. They centered on GlaxoSmithKline Plc, AstraZeneca and Shire Plc. And if you ask Mylan NV, it's also on the list. The executive chairman was said to have told shareholders last week that Pfizer could buy his company after Mylan buys Perrigo Co.
Any one of those deals may enable Pfizer to move its legal address to a place such as the U.K., where corporations have a lower tax burden. Some of its rivals have already done this and it's led to a greater ability to access their overseas cash stockpiles and eke out more profits for future investments or shareholder payouts.
"Subject to price, there are a lot of merits to a deal like that," Colin McWey, a fund manager for Heartland Advisors Inc., said in a phone interview. The Milwaukee-based based firm owns shares of Pfizer among the $4 billion it oversees.
Right Time
In addition to the tax benefits, a deal would give Pfizer more lucrative products and a way to cut costs. And now may be the time to do it before borrowing rates climb and the best targets get picked off. The pharmaceutical industry has been on a merger and acquisition spree for more than a year now, so targets are getting more and more expensive, especially as some draw bidding wars.
Many transactions were structured as tax-inversion deals, which have drawn increasing scrutiny from the U.S. Treasury Department since Pfizer bid for AstraZeneca a year ago. In September, the Treasury Department announced new rules to clamp down on inversions. While the changes do reduce some of the benefits of such transactions, they don't eliminate those advantages altogether or make doing them impossible.
Read, the Pfizer CEO, said in October that he saw "no reason" why the company wouldn't be able to do an inversion if it found an attractive enough opportunity.
Joan Campion, a spokeswoman for Pfizer, said the New York-based company doesn't comment on speculation. When asked about M&A and inversion plans on an earnings call last month, Read stressed that creating shareholder value is what guides his dealmaking.
Not Done
In February, the company announced a takeover of Hospira Inc. for $16.8 billion, including net debt. Through that deal, it gains generic injectable drugs and devices to deliver them, bolstering its established-products division. That part of Pfizer, which comprises drugs that have lost or are going off patent protection, may eventually be spun off.
"We believe that other significant acquisitions are possible, though more likely to be aimed at" Pfizer's innovative-pharma side of the company, Jeffrey Holford, a New York-based analyst for Jefferies Group, wrote in a report Thursday. He cited Shire as that type of candidate.
Shire, valued at $52 billion, makes treatments for neurological disorders such as attention deficit hyperactivity and rare diseases such as Hunter syndrome. Perrigo, the maker of over-the-counter medicines that received an unsolicited bid from Mylan, could also be attractive to Pfizer, Holford wrote. Both companies' tax jurisdictions are in Ireland.
Glaxo Argument
Deutsche Bank's Gregg Gilbert highlighted Glaxo in a report May 20 that said Pfizer may feel a sense of urgency to boost shareholder value by leveraging its balance sheet and doing a "needle-moving" transaction. Brentford, England-based Glaxo would be the largest of the likely targets at $111 billion. It would diversify Pfizer's vaccine and consumer portfolios while doubling and quadrupling each of those revenue bases, respectively, Gilbert wrote.
Pfizer could always make another attempt at buying AstraZeneca. The London-based company's stock has risen just 2.2 percent since it spurned Pfizer last May, underperforming most of its competitors.
Any deal may be a precursor to an eventual breakup. Pfizer's stock is currently one of the cheapest in its peer group, which many analysts attribute to its conglomerate structure. The company has said it may explore a split in which its established-drugs unit gets spun off or sold.
That means multiple deals may be in Pfizer's future. Or as Holford of Jefferies called it, "a rich seam of corporate optionality."
Before it's here, it's on the Bloomberg Terminal.
LEARN MORE