Zinc Stockpiles Climbing Most in Two Years Signals Ample Supply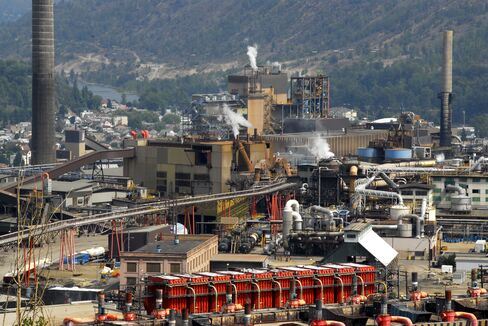 For all the concern about dwindling zinc supplies, one data point suggests there may still be plenty of metal available.
Warehouse stockpiles increased the most in two years, data from the London Metal Exchange showed on Wednesday, ending a 29-day streak of declines. While inventories are still near the lowest since 2009, the jump suggests there may be significant holdings of the metal outside of storage, according to Macquarie Group Ltd.
"The zinc market is soft," Vivienne Lloyd, an analyst at Macquarie in London, said by phone. "There is raw material and there is metal around. We have been bearish."
Zinc for delivery in three months on the LME fell 1.3 percent to settle at $2,200 a metric ton at 5:51 p.m. Earlier, prices dropped to $2,193.50, the lowest since April 21. The metal dropped for a sixth straight session in the longest slump since February.
"The jump in stocks, with most of it coming in Asia, does not help," Tai Wong, the director of commodity products trading at BMO Capital Markets Corp. in New York, said in a telephone interview. "Concerns about demand in China remain."
The International Lead and Zinc Study Group estimates that the refined market was in surplus in March.
Prices have climbed since the end of February as mine closures from Africa to Ireland and falling warehouse inventories fueled concerns that supplies won't be enough to meet demand this year.
Copper for delivery in three months on the LME settled unchanged at $6,220 a ton ($2.82 a pound). Aluminum and lead retreated, while tin and nickel advanced.
On the Comex in New York, copper futures for July delivery slid 0.3 percent to $2.829 a pound.
Before it's here, it's on the Bloomberg Terminal.
LEARN MORE