Restaurant Reviews
What's Better Than Wagyu? London Discovers Presa Ibérica, the Other Rich Meat
Jose Pizarro Broadgate, the latest outpost from the Spanish chef, is serving a cut of pork that is unlike any other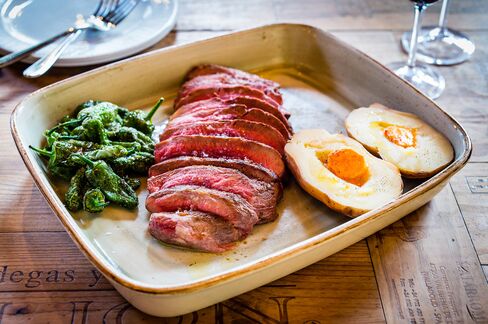 Uber, I'm sorry: I no longer need your service. Black-cab drivers: Refuse all the credit cards you like. Tube and railway strikers: Have a nice day off. I might never need private (or public!) transportation again. The City financial district is where I live and work, and now it's where I eat.
There are a few new favorites on my list around the City, and highest among them is Jose Pizarro Broadgate. (I plan to write about the excellent Taberna do Mercado and the new Yauatcha City another time.)
Jose Pizarro—the first venture north of the river for the Spanish chef—has a killer dish that I enjoy more than Wagyu beef: Presa Ibérica, take a bow. This shoulder cut of pork comes from gourmet piggies that grow up on a diet of acorns. They are not softies like Kobe cattle that require a beer and a massage just to get out of bed. These brutes stomp around forests munching their way through tons of acorns. (Except for the ones with nut allergies, who politely ask for an alternative.) The problem with eating nuts for humans—as I have discovered after years of snacking—is that you tend to evenutally build up a layer of fat. That works in our favor when it comes to presa, where the meat takes on a sweet and buttery flavor. It's a bit like popcorn, only not crunchy and unlikely to threaten your fillings.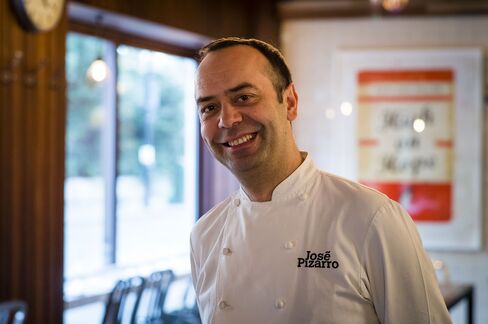 Most of us might be challenged even to identify it as pork in a blind tasting. You might start guessing wallaby or ostrich or reindeer. (But probably not camel: That really is distinctive.)
It's so soft, you could cut it with a plastic knife. On your tongue, it's polite but insistent, like someone selling insurance. It's sweet, it's salty, it's even a bit sweaty with that melting fat.
Pizarro cooks the whole cut for five to six minutes on a hot grill and then pops it in the oven. After that, it is rested for 10 minutes, sliced and served with Padrón peppers and roasted Jersey Royals. He says the meat is medium rare, but it's somewhere between pink and red. Maybe it's blushing: At 13.50 pounds ($21.23) per 100 grams (3.5 ounces), it's not cheap.
There are plenty of other good options on the menu of this new Spanish restaurant. The pan con tomate comes loaded with beautifully sweet tomatoes; prawn fritters with saffron aioli and pimento have a good, loose texture; the Ibérico pork meatballs are served in an orange and tomato sauce that is less boring than the plain old red stuff.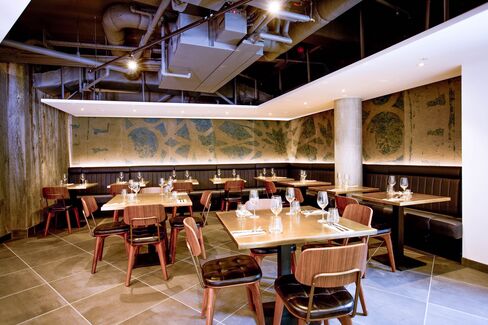 My favorite starter is the pan-fried chicken livers with garlic, shallots, and dry sherry. This dish is rich, and the layers of flavor keep on coming—particularly the garlic, which may follow you round all afternoon.
I haven't even mentioned the Ibérico charcuterie, toasted bread, and olive oil, at 19.50 pounds. I'd say this is a must, but you might just go for our friend the acorn-fed Jamón Ibérico 5J, at 23 pounds. (Cinco Jotas, or 5J, being the producer.)
The all-Spanish wine list is adventurous. Enjoyable options include the 2013 Cillar de Silos (30 pounds) and the 2007 Finca Allende (45 pounds). The 2013 Txakoli, Gaintza (33.50 pounds), which is light and slightly fizzy, is fine as an aperitif and will be better when they get the hang of pouring it from a height.
Broadgate Circle has become very buzzy very quickly after reopening as a food destination following a refurb last month. Jose Pizarro looks set to replicate the success the chef has enjoyed with his two restaurants in Bermondsey.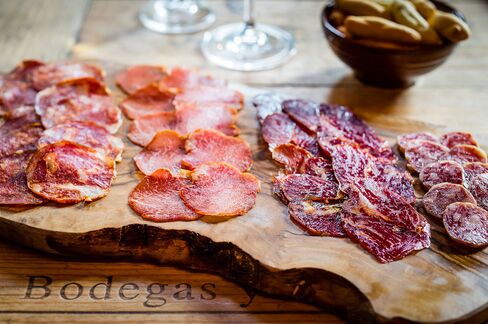 Spanish food is really coming alive in London, with excellent new establishments from the Salt Yard Group (Opera Tavern, Ember Yard, etc.), Ibérica, and Barrafina, as well as the evergreen Cambio de Tercio, which was established in June 1995. Jose Pizarro Broadgate is among the best.
Jose Pizarro Broadgate is at 36 Broadgate Circle, The City, London, EC2M 1QS; +44-20-7256-5333 or http://www.josepizarro.com/.
Richard Vines is the chief food critic for Bloomberg. Follow him on Twitter @richardvines.
Before it's here, it's on the Bloomberg Terminal.
LEARN MORE