Airline Rally Unwinding as American Spurs Price War Selloff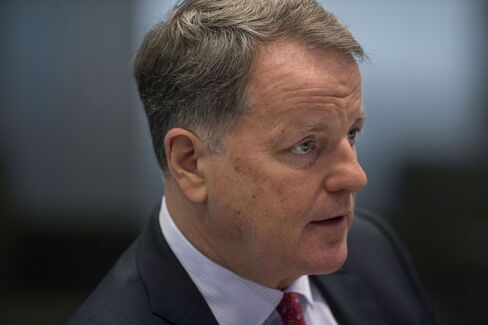 Turns out cheap oil isn't always good for airlines.
U.S. carriers sank the most since 2011 amid signs that a year of lower fuel costs has left them poised to ramp up competition for customers with cut-rate fares and more routes.
Some airlines are expanding faster than the U.S. economy and offering cheaper flights as the rout in global crude markets reduces the cost of jet fuel, the industry's biggest expense. American will "compete aggressively" against discounters that are piling on seats, Chief Executive Officer Doug Parker said Tuesday in an interview at Bloomberg's New York headquarters.
"People see capacity increases and then read stories about airlines competing on price, and people start to get skittish," said Mike Kelley, a senior high-yield debt analyst at Invesco Ltd. in Atlanta, who follows transportation companies including airlines.
Investors have been concerned that any fare reductions will weigh on an industry that only recently returned to profit after billions in losses last decade. While suggesting that the recent growth in available seats may be only temporary, Parker said American won't let rivals try to grab fliers with bargains.
No Advantage
"We're not going to lose customers on price," Parker said in the interview. "We're not going to give anyone else an advantage and allow them to expand at a rate that takes away customers and is not good for our shareholders."
Southwest Airlines Co. fell 9.1 percent to $37.19 at the close in New York, its biggest drop in six years, while American tumbled 10 percent to $43.06 in its worst day since the company's creation in December 2013 in the merger between bankrupt AMR Corp. and US Airways Group Inc. Airline stocks have risen at twice the rate of the Standard & Poor's 500 Index in the past year.
Southwest had rallied 50 percent since crude's peak through Tuesday amid a surge in profit, while United Continental Holdings Inc. jumped 40 percent in that span. Oil prices are hovering near $60 a barrel, more than 40 percent below the 12-month high of $107.26 in June 2014.
Southwest Chief Financial Officer Tammy Romo said Tuesday that the airline increased its 2015 expansion plan to as much as 8 percent, from 7 percent previously. The move isn't related to fuel savings estimated to total as much as $1.3 billion in 2015, she said. Romo forecast that it would be at least two years before new markets generate returns.
"Stocks are all down today because of comments by Southwest about extra capacity growth that people were not anticipating, as well as the comments from American that they would match lower fares from the low-cost providers," Helane Becker, an analyst at Cowen & Co. in New York, said in an interview.
Daniel McKenzie, an analyst at the Buckingham Research Group, cut his rating on Dallas-based Southwest to neutral from buy.
The Bloomberg U.S. Airlines Index dropped 8 percent, as United Continental plunged more than 10 percent and JetBlue Airways Corp. fell 6.9 percent. The S&P 500 ended the day little changed near an all-time high.
Before it's here, it's on the Bloomberg Terminal.
LEARN MORE