Short Sellers Burnt by Hanergy's Rise Miss $19 Billion Rout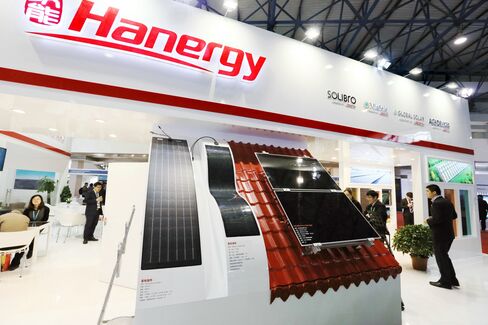 Short sellers bowed out on Hanergy Thin Film Power Group Ltd. at just the wrong time.
Wagers against the Chinese solar-panel maker fell to 3.1 percent of its outstanding shares on Monday, the lowest level since December 2013, just before the stock slumped 47 percent in 24 minutes on Wednesday in Hong Kong to erase about $19 billion of value. Short interest dropped from 2014's high of 5.1 percent, data compiled by Markit Group Ltd. show, as bears capitulated amid a 162 percent gain in the stock this year.
"Those who shorted Hanergy in the past got squeezed because it kept going up," Andrew Sullivan, head of sales trading at Haitong International Securities Group, said in Hong Kong. "While there was a wall of money supporting the stock, it was very difficult to short."
The unexplained plunge underscores the risks for investors in China's world-beating stock rally. Companies on the Shanghai Composite Index trade at an median 62 times reported earnings after the benchmark gauge surged 124 percent in the past 12 months. Hanergy had a multiple of 65 before the rout, while its $40 billion market capitalization was seven times bigger than First Solar Inc., the biggest U.S. solar company.
Hanergy said in a statement the stock has been suspended pending "an announcement containing inside information." Chairman Li Hejun didn't attend the company's annual general meeting Wednesday, spokesman T.L. Chow said by phone.
Top Performer
The stock's rally this year, the biggest among more than 2,400 members on the MSCI All-Country World Index, came amid questions about the company's valuation and revenue. The Financial Times said in January that "unconventional practices" were behind the company's rapid rise, while almost no analyst covered the stock even as it became one of the largest companies by market value traded in Hong Kong.
Chinese equity investors were undeterred. Hanergy was the most-traded stock through the Hong Kong-Shanghai link during February and March. The investment arm of China's foreign-exchange regulator bought a stake of less than 5 percent, according to people familiar with the matter, who asked not to be identified because the shareholding wasn't publicly disclosed.
About 61 percent of Hanergy Thin Film's sales derive from the closely held parent Hanergy Holding Group, the listed company said in March. Chairman Li owns more than half the shares.
Sell Ratings
Hanergy makes a niche technology in the photovoltaic industry where more than three quarters of all panels are based on crystalline silicon, or polysilicon semiconductors. Thin film panels are generally lighter but less efficient than polysilicon-based panels.
Short sellers have increased bearish bets against other top-performing Chinese companies. Short interest in trainmaker CSR Corp. has almost tripled to 17.7 percent from a year earlier after the shares climbed 44 percent in 2015. Wagers against Shanghai Electric Group Co. have jumped to a record 14.2 percent of outstanding shares, according to the Markit data, after the stock surged 93 percent this year.
While Hanergy isn't included in the Hang Seng Index, the company would have ranked as the 22th largest on the gauge based on its Tuesday valuation. That's bigger than Hang Seng Bank Ltd., the lender controlled by HSBC Holdings Plc, MTR Corp. and Galaxy Entertainment Group Ltd., the Macau casino operator. The shares are now valued at $21 billion.
The MSCI China Index slid 0.8 percent at the close in Hong Kong, with Hanergy the biggest contributor to declines. The Hang Seng Index dropped 0.4 percent.
There are only two analysts that cover Hanergy, according to data compiled by Bloomberg, and both have sell ratings. BNP Paribas SA has a target price of HK$1.65, implying the stock will fall a further 58 percent.
Before it's here, it's on the Bloomberg Terminal.
LEARN MORE