Malaysia, Indonesia to Shelter Fleeing Rohingya Temporarily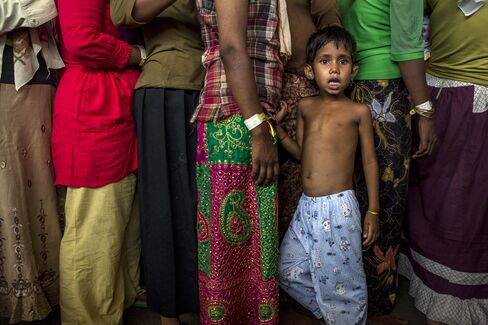 Malaysia and Indonesia will provide temporary shelter to thousands of ethnic Rohingya stranded on overcrowded boats, even as the Southeast Asian nations asked the international community to share responsibility for the groups fleeing Myanmar.
The countries will help 7,000 asylum seekers still at sea and have identified potential areas to house them, Malaysian Foreign Minister Anifah Aman said after a meeting with his Indonesian and Thai counterparts Wednesday near Kuala Lumpur. Thailand didn't agree to take part. All three countries have recently turned boats away.
"We understand the dire humanitarian circumstances of the crisis," Anifah said. "Therefore, we are allowing them into our waters immediately including those in high seas and in particular women and children."
The treatment of Rohingya Muslims, who are denied citizenship in majority-Buddhist Myanmar and have had their homes and businesses attacked, has led tens of thousands to flee. The asylum seekers are trying to reach Malaysia and Indonesia as a crackdown on overland smuggling rings by Thai authorities forces them to travel by sea.
Malaysia sent boats carrying Rohingya and Bangladeshis out of its waters last week after more than 1,000 undocumented migrants arrived on its shores earlier this month. Indonesia has allowed some to land while the Philippines has offered to take in some refugees.
Resettlement Soon
The boat people will be allowed in as long as the international community arranges for their repatriation or resettlement within a year, Anifah said. Rohingya asylum seekers can enter Indonesia and have been allowed to board the country's naval ships, Navy Chief-of-Staff Admiral Ade Supandi said in an interview on Wednesday in Singapore.
"It's not a threat but a social problem," he said.
The United Nations High Commissioner for Refugees said Wednesday it welcomed the commitment to resolve the issue of refugees and migrants stranded in boats on the seas of Southeast Asia.
"It is now urgent for people to be brought ashore without delay," it said. "UNHCR agrees with the ministers that further action will be needed. This includes addressing root causes. It will need to take into account looking properly at the needs of those in need of international protection."
Voluntary Return
The UNHCR said it was ready to work with countries in the region to find solutions, which may include returning people to their home states voluntarily once conditions allow.
Myanmar says it's making "serious efforts" to prevent the exodus from Rakhine state. The quasi-military government has denied any conflict in Rakhine and said the issue was one of human trafficking.
"Preventive measures on human smuggling and illegal migration are being implemented throughout the nation," the Ministry of Foreign Affairs said in a statement published in the state-owned Global New Light of Myanmar. "Likewise, the Rakhine state government and concerned departments are endeavoring diligently to prevent illegal migration by sea. Measures are also in place to maintain rule of law and security for all individuals there."
While the United Nations and Western governments have called for Myanmar to do more to protect minorities, members of the Association of Southeast Asian Nations have avoided directly criticizing it.
Middle Country
Thai junta leader Prayuth Chan-Ocha has questioned whether it was fair to ask a "middle country" like Thailand to take responsibility for the Rohingya, while Malaysian Deputy Prime Minister Muhyiddin Yassin has been reported as saying Myanmar should resolve the issue internally. Prayuth said Wednesday that Thailand needed more details before joining the plan agreed to by Indonesia and Malaysia.
"The fact is Thailand still has more problems than those two countries," Prayuth told reporters in Bangkok. "I would like them to make it clearer about the sharing of the burden."
It was "disturbing" that "Thailand was missing in action," on the issue, said Phil Robertson, deputy Asia director for Human Rights Watch.
"Let's hope that this failure of Thai leadership is temporary, and that Bangkok recognizes that it should urgently revamp its stance and join with Indonesia and Malaysia to save these people on the high seas and provide them with humanitarian shelter and assistance ashore," Robertson said.
Anifah said Malaysia will assist Myanmar on the Rohingya issue as it's impossible for the country to manage on its own.
The Thai government will hold a one-day meeting on undocumented migrants May 29 in Bangkok. It will be attended by senior officials from 15 affected countries, including Australia, Indonesia and Vietnam, its foreign ministry said.
Before it's here, it's on the Bloomberg Terminal.
LEARN MORE