Liberty's Malone Starts Pursuit of Vodafone 'Big Banana' Prize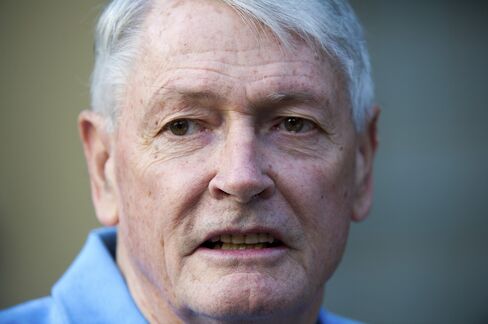 John Malone's comparison of potential merger partner Vodafone Group Plc to "a big banana in the jar" is one of the more arresting images used in the world of high-stakes deal-making.
The question posed by the billionaire chairman of Liberty Global Plc during an interview on Tuesday is: "How do you get your hand out of the jar with the banana?"
Much of the speculation about a tie-up between Malone's European cable empire and the world's second-biggest mobile-phone operator has assumed that Vodafone would be the suitor. Its 62.7 billion pound ($97.5 billion) market value is more than double that of Liberty.
Yet Malone's comments suggest that, while the 74-year-old sees "enormous potential synergies" in a deal with the U.K.- based carrier, he's far from ready to cede control of his fast-growing company. Some analysts said he may be trying to put pressure on Vodafone to split its emerging markets business in Africa and India from its European operations -- the assets most prized by Liberty.
Neil Campling at Aviate Global in London said Liberty could even emerge as the aggressor in any tie-up. "For Liberty it's not a matter of if but when they get Vodafone to the table," he said.
Malone pointed to the "philosophical differences" between the two companies' business models on Tuesday, with his high-leverage, rapid-growth strategy compared with Vodafone's more sedate commitment to dividends and an investment grade credit rating. That could make a debt-funded deal easier for Malone to pull together despite its smaller size, UBS brokers wrote in a note on Wednesday.
Separation Anxiety
Others are more circumspect about prospects for a deal, saying that Vodafone's board is unlikely to want to separate the western European wireless assets described by Malone as a "great fit" for his cable operators. "We sense resistance from Vodafone management to consider a break-up," said James Britton, head of telecommunications research at Nomura.
Liberty's presence in European countries where Vodafone doesn't operate could also make a tie-up too complicated, said Bengt Nordstrom at Northstream Consulting. "If you talk about the markets where they are both present, if such a deal was possible, that's more relevant," he said.
And while some might argue that Liberty is a credible suitor for Vodafone, the mobile phone company's European business still dwarfs that of its cable rival. Vodafone's sales in Europe were about 28 billion pounds ($44 billion) in the 12 months ending March, almost triple Liberty's $17 billion revenues on the continent last year.
Expensive Liberty
Liberty's higher valuation by investors is another potential stumbling block. Its enterprise value is about 10 times anticipated earnings before interest, tax, depreciation and amortization, according to Bloomberg data, while Vodafone's is 7.4 times.
That said, Vodafone's strategic need to find a European content partner has not disappeared in an industry consumed by recent deal activity. Competitors will still be looking keenly at a potential tie-up and the disposals that would be needed to make it happen, including a possible sale of Vodafone's Africa and Asia assets -- valued at 30 billion pounds by Macquarie Group.
"Larger operators seeking to review their portfolios as well as private equity investors will be watching closely," said Chris Woodland, a partner in KPMG's technology strategy group.
Before it's here, it's on the Bloomberg Terminal.
LEARN MORE