Investors Reap 20% on Budapest Rentals as Tourism Grows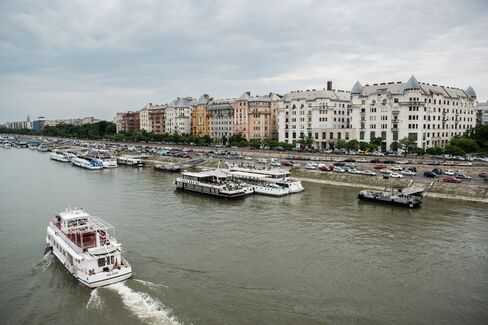 Call it the Budapest Spring for real estate investors.
Years after housing prices in most European capitals rebounded from the financial crisis, Budapest's market is finally showing signs of life. Hungarian and foreign investors are buying apartments at prices still below their pre-crisis peak and earning robust returns. They're benefiting from a surge in tourists, who are drawn to Budapest's mix of Michelin star restaurants, "ruin" bars and cheap rents.
Investors Viktor Balint and Laszlo Katona bought a dilapidated studio apartment in 2012 in Budapest's theater and bar district for 8.4 million forint ($30,292). They split it into two units and rented each to tourists for 30 euros ($34) a night, producing a 20 percent annual yield. They sold the property this year, earning a total return of 120 percent.
"Tourists from western Europe come here and they have a laughing fit because they can rent an apartment for so little," said Katona. "We're also smiling, looking at the profit."
Central Budapest is the hotspot for investors offering rentals to visitors, whose numbers rose 15 percent since 2010, government data show. Investors can earn a 20 percent yield on short-term rentals in central Budapest and 5 percent on long-term leases, said Balazs Farkasvolgyi, a real estate agent at CDC Ingatlan in Budapest.
Prices Surge
The capital city's fifth district is home to luxury boutiques and gourmet restaurants. The sixth and seventh, with the old Jewish ghetto at its heart, are now a magnet for party-goers, munching at street food stalls and drinking in 'ruin' pubs -- dilapidated buildings converted into bars. The 13th attracts a cafe culture to its Bauhaus buildings near the Danube River.
Bidding wars are breaking out in some parts of Budapest. Jozsef Borocz, a 32-year-old mechanic, sold his studio in the theater district in April for 14.7 million forint -- 14 percent above his asking price -- after buyers topped rival bids.
"The demand was huge,' Borocz said.
Home prices in Hungary rose for the first time in five years in 2014 after the market, then-dominated by Swiss franc mortgages, collapsed when the forint plunged in 2008. Values in Budapest soared 13 percent in the first quarter of 2015 from a year ago, according to Duna House real estate agency, which compiles a monthly report.
Record Rates
Budapest real estate was rated the top long-term investment among 35 European cities by globalpropertyguide.com in 2014, based on rental yields, transaction costs and regulations.
The average price of a 120-square-meter (1,292-square-foot) renovated apartment in the city center was 1,528 euros per square meter in 2014, according to the website. In Prague, prices were twice as high and 17 times more in London.
''Counting on the appreciation of home prices is still a good strategy whether for Hungarians or foreigners,'' said Attila Dery, a Budapest-based analyst at real estate agency Otthon Centrum.
Investors make up a growing part of the housing market. In April, 32 percent of homebuyers said they purchased housing in Budapest as an investment, up from 21 percent a year ago, according to Duna House.
A magnet for Irish and Spanish investors before 2008, Hungarians are now driving sales, shifting savings from bank deposits paying close to zero interest and taking advantage of record low mortgage rates.
A 20-year, 10-million forint mortgage carries an interest rate as low as 4.3 percent. New home-loan volumes rose 58 percent in 2014, according to central bank data, though the level is still 72 percent less than in 2008.
Ridiculously Cheap
Balint and Katona, the investors, now own or operate 15 apartments. In May, workers were finishing renovations on their 107-square-meter property in the 13th district, which they bought for 22.4 million forint. It has been split into five studios to rent to vacationers.
Balint said the real estate market will continue to rise as tourists and foreign investors come to Budapest. The partners sold their apartment to a Belorussian though Russian, Chinese and Arab investors also showed interest because of the rental yields and safety of buying bricks and mortar in an undervalued European Union capital.
''It's still ridiculously cheap,'' Balint said.
Before it's here, it's on the Bloomberg Terminal.
LEARN MORE