Chinese Solar Maker Plunges, Losing Nearly $19 Billion in 24 Minutes
The decline of Hanergy Thin Film Solar Group Ltd. was as spectacular and inexplicable as its ascent.
Just 24 minutes of Hong Kong trading erased $18.6 billion of market value and wiped out almost four months of gains that made it more valuable than Sony Corp. of Japan. Those increases came as analysts and investors questioned why, exactly, this stock was increasing in the first place.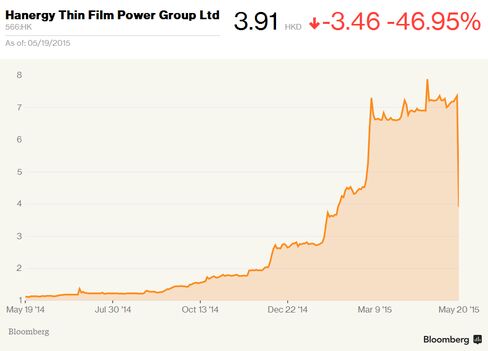 The maker of solar equipment controlled by Li Hejun suspended trading after the stock plummeted 47 percent in the morning. Discussion of what triggered the move emerged after trading halted.
Hong Kong's Securities and Futures Commission has been probing market manipulation in Hanergy's shares for several weeks, Reuters reported late Wednesday citing an unidentified person. Ernest Kong, a spokesman for Hong Kong's Securities and Futures Commission, declined to comment to Bloomberg.
Chairman Li, who is also the biggest shareholder, didn't attend an annual meeting in Hong Kong on Wednesday, T.L. Chow, the company's external spokesman, said by phone.
"All directors of listed companies take part in setting the dates of their shareholder meetings, and they should attend," said David Webb, shareholder activist and founder of Webb-site.com. "If a chairman of a mainland company did not show up in Hong Kong for the AGM, then it raises questions."
The stock fell to HK$3.91 before the suspension at 10:40 a.m., shaving HK$144.3 billion ($18.6 billion) off its market value.
Peak Value
Before today's decline, the stock had surged more than sixfold in the past year despite questions from analysts and investors about the company's revenue sources. About 61 percent of Hanergy Thin Film's sales come from Beijing-based parent Hanergy Holding Group, the listed company said in March.
The company's first statement Wednesday didn't give a reason for the suspension. A subsequent statement from Hanergy Thin Film said the stock has been suspended pending "an announcement containing inside information."
Hanergy uses a niche technology in the photovoltaic industry, where more than three-quarters of all panels are based on solar-grade silicon. Thin film cells are more flexible but less efficient than crystalline silicon-based panels.
Prior to Wednesday's plunge, Hanergy Thin Film's market value had at one point risen to more than HK$300 billion. That's larger than Sony and almost seven times the size of First Solar Inc., the biggest U.S. solar company.
Questions Asked
The run-up in the shares hasn't been without questions.
"It's an adjustment that the market has been waiting to happen, as Hanergy's earnings and business performance didn't support such a high stock price or valuation," said Gong Siwen, Shanghai-based analyst at Northeast Securities Co.
The Chinese solar company was the subject in January of an investigation by the Financial Times newspaper, which questioned its "unconventional" accounting practices.
A Feb. 27 report from analysts Charles Yonts and Johnny Lau at CLSA Asia-Pacific Markets in Hong Kong raised more skepticism, saying the stock was wildly inflated.
The stock "is a disaster waiting to happen," Geo Securities Chief Executive Officer Francis Lun said Wednesday by phone.
Bloomberg New Energy Finance released a report in March saying Hanergy is working with "unproven" technology and has disclosed few details about the work that underpins its valuation.
Concerns Detailed
In a six-page examination of the Hong Kong manufacturer's operations, the London-based researcher said it's been unable to find a detailed list of solar-power projects that would help explain why the company's shares surged in the past year.
Hanergy Thin Film, which isn't included in Hong Kong's benchmark Hang Seng Index, is covered by only two analysts, according to data compiled by Bloomberg.
Outside solar, Hanergy has more than 6 gigawatts of hydropower projects and 131 megawatts of wind power, according to the company's website.
Li, the chairman, owns more than half of Hanergy Thin Film and has been outspoken in defending the company. He says critics fail to understand his strategy and the potential of the thin-film market.
"Hanergy is very cautious in thin-film investment," Li said earlier this year during a brief interview in Beijing. "Outsiders said Hanergy's investment is a bet, but I am absolutely not gambling."
First Solar, based in Tempe, Arizona, and Japan's Solar Frontier K.K. are the other main companies working in thin film. Hanergy supplies equipment to make solar panels. First Solar is focused on developing utility-scale projects using panels that it makes. The two companies use a different manufacturing process that requires different raw materials.
Before it's here, it's on the Bloomberg Terminal.
LEARN MORE