Hanergy's Rise and Fall as World's Biggest Solar Stock: Timeline
The following is a timeline of milestones in the rise and fall of Hanergy Thin Film Power Group Ltd.
The Hong Kong-listed company plunged 47 percent Wednesday to HK$3.91 before its shares were suspended. Prior to the drop, Hanergy Thin Film's market value had at one point risen to more then HK$300 billion ($39 billion). That's larger than Japan's Sony Corp. and about seven times the size of First Solar Inc., the biggest U.S. solar company.
1994: Hanergy Holding Group Ltd. founded by Li Hejun with headquarters in Beijing.
August 2000: Hanergy Group begins construction of its first hydropower project, the Mujing Hydropower Station, on the Dongjiang River in Guangdong province, China.
October 2009: Toy company RBI Holdings Ltd. announces acquisition of Apollo Precision Ltd. for about HK$4.18 billion. The combined company, Apollo Solar Energy Technology Holdings Ltd., focuses on clean energy.
June 2010: Apollo Solar announces that a unit and Hanergy Group enter into $2.55 billion contract to provide Hanergy with equipment for the manufacture of thin film solar modules. Hanergy becomes a major shareholder in Apollo.
November 2011: Apollo says it will be renamed Hanergy Solar Group Ltd.
September 2012: Hanergy Group completes purchase of Solibro GmbH, a subsidiary of Q.Cells and a maker of solar products using copper, indium, gallium and selenide, knows as CIGS.
January 2013: Hanergy Group completes acquisition of MiaSole, a California-based manufacturer of CIGS thin-film photovoltaic solar panels.
July 2013: Hanergy Group completes acquisition of Global Solar Energy Inc., a manufacturer of CIGS solar technology based in Tucson, Arizona.
August 2014: Hanergy Group completes purchase of Alta Devices Inc. Hanergy says Alta Devices's thin-film solar technology has a conversion efficiency of 30.8 percent, the highest among the solar energy technologies currently available.
October 2014: Company name changed from Hanergy Solar Group Ltd. to Hanergy Thin Film Power Group Ltd. to reflect direction of business. Hanergy Group Chairman Li launches English-language edition of "China's New Energy Revolution" at the Frankfurt Book Fair.
December: Hanergy Thin Film shares begin their rapid ascent. They start the month at HK$1.94 and end it at HK$2.81. CLSA Asia-Pacific Markets' analyst Charles Yonts asks in a research note on Hanergy "are they really that good?"
Jan. 28, 2015: Financial Times publishes report on "unconventional practices" with the solar-panel maker's reporting of sales.
Jan. 27, 2015: Hanergy Group announces sale of Alta Devices to Hanergy Thin Film Power Group for $15 million.
Feb. 3, 2015: Hanergy Thin Film announces plans to partner with five vehicle designers to develop solar-powered cars. Company plans to roll out three to five models in October 2015.
Feb. 27, 2015: Hanergy Thin Film agrees to issue 1.5 billion new shares to Macrolink New Resources Holding at HK$3.64 each. Shares close at HK$4.52. On the same day, CLSA's Charles Yonts and Johnny Lau publish second critical report on Hanergy.
March 5, 2015: Shares surge 42 percent in intraday trade to HK$9.07 before ending the day up 14 percent at HK$7.30.
March 6, 2015: Bloomberg New Energy Finance publishes report saying Hanergy's technology is "unproven."
March 24, 2015: Hanergy issues statement saying it isn't aware of anyone manipulating its stock, including its billionaire chairman. Statement follows publication of a Financial Times story highlighting unusual trading patterns in its shares.
April 13, 2015: Hanergy Thin Film outlines plans for its panels to be used on catering, touring and recreational vehicles.
April 16, 2015: Hanergy announces plans for R&D manufacturing station in Wuhan, China.
April 23, 2015: Shares close at HK$7.88, a record high at the close. Hanergy issues statement saying it's not aware of any reason behind the increase.
April 24, 2015: Disclosure statements show Li raised stake in company from April 17 to April 21 at average prices of HK$6.90 to HK$6.92.
April 30: Additional filing shows Li bought more shares in seven transactions priced at HK$6.90 to about HK$6.95, with latest purchase on April 23.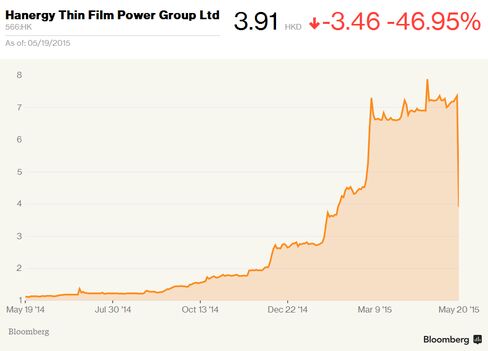 May 20, 2015: Stock plunges 47 percent. Company issues a statement saying shares suspended pending release of inside information.
Before it's here, it's on the Bloomberg Terminal.
LEARN MORE