Greece, Creditors Delve Into Details as Deadline Looms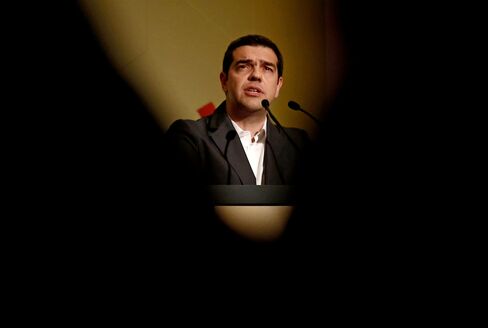 Greece delved into detailed proposals with creditors as some European policy makers struck an increasingly optimistic tone that a deal to unlock bailout aid can be reached.
An agreement is possible in the coming weeks following progress this month, European Union Economic and Monetary Commissioner Pierre Moscovici told the French Senate Wednesday, the day after German Chancellor Angela Merkel said Greece had until the end of the month to reach a deal.
European Union leaders head to Riga, Latvia, later this week for a summit, where Greek Prime Minister Alexis Tsipras plans to present a new debt restructuring plan, newspaper Ta Nea reported Wednesday. Tsipras will submit a new proposal on sales tax in the coming days after an original offer didn't pass creditors' muster, people familiar with the matter said Tuesday.
The four-month standoff between Europe's most indebted state and its lenders has triggered an unprecedented liquidity squeeze that pulled the Mediterranean nation's economy into a double-dip recession. Record deposit withdrawals and the state's increasing difficulty in meeting debt payments have sparked renewed doubts about the country's place in the euro area. European Central Bank policy makers will discuss Greece bank aid on Wednesday.
Closer Agreement?
"More officials seem to believe an agreement is closer now," said Aristides Hatzis, an associate professor of law and economics at the University of Athens. "There will be a deal, Greece will get some money to plug the holes that cash reserves withdrawals created, so that the state starts running again, repaying its obligations."
The Athens Stock Exchange was little changed as of 2:45 p.m. local time. The Greek Government 10-year bond yield rose 3.5 basis points to 11.1 percent.
Adding to the urgency of a potential agreement, parliamentary speaker Nikos Filis was cited as telling Ant1 that if a deal isn't reached by June 5, Greece will be unable to make a payment to the International Monetary Fund.
ECB Meeting
The ECB's policy makers will meet in Frankfurt to discuss whether to tighten rules on Greek access to Emergency Liquidity Assistance. The Bank of Greece has accepted adding 6 billion euros ($6.7 billion) in extra ELA collateral, a move that would expand the scope of the program by about 3 billion euros after haircuts, Market News International reported, citing unidentified people. Spokespeople for both the ECB and Bank of Greece declined to comment.
There is a high likelihood of capital controls and a deposit freeze being imposed on Greek banks, Moody's Investor Service said Wednesday in a note. Pressures on the nation's banking system is unlikely to ease in the next 12 to 18 months, leading to a negative outlook for the Greek banking system, the ratings firm said.
"Greece's pressing financing needs and uncertainty regarding its support program have also negatively affected economic activity," Moody's wrote, adding that it now forecasts a lower growth trajectory than previously anticipated.
Before it's here, it's on the Bloomberg Terminal.
LEARN MORE