Germanwings Pilot Suicide Prompts FAA Review of Medical Test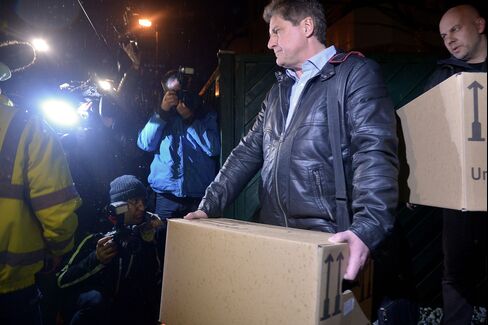 The U.S. government is taking steps that may change the way airlines vet employees for mental illness, a response to the downing of an airplane by a suicidal pilot in France two months ago.
The Federal Aviation Administration has created a panel of government and industry officials to recommend ways to improve the evaluation of pilots' fitness to fly. It is one of the most comprehensive reassessments ever of pilot medical rules, said a person familiar with the matter, who wasn't authorized to speak publicly.
"We support this," Tim Canoll, president of the Air Line Pilots Association union, said Wednesday in response to questions after a speech in Washington. "When it comes out, we'll have a much better understanding of whether we need to make changes."
ALPA, the largest pilot union in North America, is participating in the group, Canoll said. The creation of such panels have led to significant rule changes, including stricter pilot-fatigue standards and training requirements.
The committee will focus on how doctors should assess pilots' psychological health, Laura Brown, an FAA spokeswoman, said in an interview.
There have been at least seven fatal crashes caused intentionally by airline pilots around the world since 1982, including on March 24 when investigators say a Germanwings co-pilot suffering from depression flew his plane into a French Alps mountainside. The co-pilot, Andreas Lubitz, and 149 passengers and crew were killed.
Medical Checks
Currently, airline pilots must receive a medical check by an FAA-approved physician at least once a year to ensure they are fit to fly. Once they reach age 40, the check occurs every six months, according to the agency.
While there's no direct psychological screening, pilots must fill out a form that asks questions about their mental health and disclose drugs they are taking, including medications for depression.
Lubitz passed an FAA medical exam while training as a pilot in the U.S., according to agency records.
It's going to be difficult to effectively screen for the dramatic psychotic breakdowns that have led pilots to commit suicide and kill passengers, Philip Scarpa, a physician and former president of the Aerospace Medical Association, said in an interview.
"However, there are lot of things we can do," Scarpa said.
Standardize Approach
Better screening would still have value because too many airline pilots suffer from depression, anxiety and substance abuse issues that can threaten safety, he said.
The Aerospace Medical Association, which does scientific research into the fitness and safety of pilots and astronauts, has in the past suggested that FAA-approved doctors ask more questions designed to reveal these conditions. The association's work was prompted by a JetBlue Airways Corp. captain who had a breakdown on a 2012 flight and was locked out of the cockpit.
At the same time, regulations and airline policies should allow pilots to reveal these issues without jeopardizing their careers, Scarpa said.
"The better we can standardize the approach on this the better we'll be," he said.
Privacy Laws
In the Germanwings crash, French and German prosecutors have said the co-pilot, Lubitz, was suffering from psychological problems that weren't fully apparent to his employer because of privacy laws designed to encourage people to consult doctors without fear for their jobs. Germanwings is a unit of Deutsche Lufthansa AG.
Most U.S. airlines have programs to encourage pilots to voluntarily reveal health issues or to anonymously disclose concerns related to other employees.
More than 15 people have been asked to participate in the panel, which the FAA calls an Aviation Rulemaking Committee, said the person familiar with the agency's plans. It includes representatives from airline trade groups, unions, doctors and the FAA. People from the United Nations International Civil Aviation Organization and the International Air Transport Association, a trade association representing carriers, will also work on the group.
FAA Rules
The FAA sets rules for U.S.-based airlines as well as for flights by foreign carriers into the country.
In addition to pilots, the committee will re-examine the required periodic medical checks for other airline workers, including mechanics, flight attendants and safety inspectors, according to the person familiar with the matter. The FAA disputes that. Brown, the agency spokeswoman, said the scope would be limited to pilots.
The panel's recommendations are due by the end of the year, the person said.
"It's going to go study it in the way it should with the right people involved," American Airlines Group Inc. Chief Executive Officer Doug Parker, said at an event Friday in Washington, without elaborating on the committee's work.
An American Airlines employee is on the committee.
Parker and Delta Air Lines Inc. Chief Executive Officer Richard Anderson defended U.S. airline pilots during a joint appearance.
The major U.S. carriers typically hire pilots with more experience and education than their European competitors, Anderson said. The U.S. also had a policy requiring at least two people in the cockpit at all times. Most nations have adopted the rule since the Germanwings crash.
Of the seven intentional fatal crashes since 1982, none have occurred on U.S. airlines. There was at least one non-fatal incident in the U.S., when a FedEx Corp. pilot attacked fellow pilots on a plane in 1994 before being subdued.
The industry will do everything possible to ensure a pilot suicide doesn't happen here, Parker said.
(The name of the committee was corrected in an earlier version of this story.)
Before it's here, it's on the Bloomberg Terminal.
LEARN MORE